WATCH: Matty Healy Once Played A School Boy On UK TV And We Only Just Realised
19 October 2016, 15:50 | Updated: 8 May 2017, 17:09
WHERE *claps* IS *claps* MATTY'S *claps* BAFTA?
If you're based in the UK then there's a strong chance you probably remember the BBC drama called Waterloo Road. But we bet that very few of you will remember spotting Matty Healy's baby face hidden in the background amongst the extras. Yep, that's right...
Matty Healy of The 1975 used to have a pretty sweet gig hanging out as a school boy on national TV and we never even noticed!
via giphy.com
True stans of the Healy family will know that Matty's iconic mum, actress Denise Welch, played a teacher on the show. And thanks to her magical powers, Matty and his bandmates managed to score a couple of gigs as extras back in the day.
It might take you a while to skip through the entirety of series three but thanks to @unsmokable on Twitter, we've got the receipts to prove it.

You can catch him sitting in the crowd being bored AF next to bandmates George and Ross!
Bored are we, Matty? (Watch the full scene at 47:11 right here.)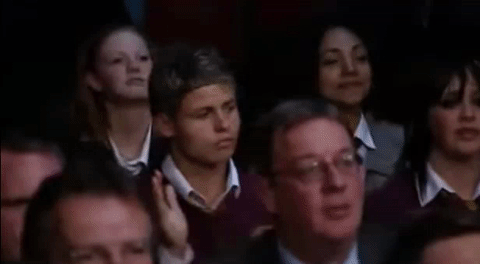 via youtube.com

He also made various other appearances throughout the series as a scruffy haired Gryffindor.
via @unsmokable / BBC

Is that Matty or is that Harry Potter? We can't quite make it out! #MattyPotter
via @unsmokable / BBC

Hasn't got a clue what's going on, has he?
via @unsmokable / BBC

What a revelation!
CAN YOU BELIEVE MATTY'S MUM TAUGHT FRENCH IN WATERLOO ROAD AND THE 1975 HAVE A SONG CALLED PARIS

— katie (@sofarkatie) September 25, 2016
#IlluminatiConfirmed... almost.
via giphy.com
___ ___ ___ ___ ___
Listen to this week's #PopBuzzPodcast featuring the boys from The Vamps right here on Soundcloud, or download from iTunes, AudioBoom or TuneIn to catch up with all the previous episodes!