The 1975 Tour: The 29 Stages Of Pandemonium Every Fan Will Experience
8 March 2016, 12:00 | Updated: 27 December 2019, 16:35
Lots of screaming.
The 1975 are having a rather good week aren't they? Their second album, the excellent 17-track space-funk odyssey I Like It When You Sleep For You Are So Beautiful Yet So Unaware Of It has topped the charts around the world and now they are enjoying a 5 night stint at London's legendary Brixton Academy.
So, if you couldn't make it down, or if you are heading to one of their many other tour dates this year, here is a rough guide of what goes down when you head out to watch The 1975 live.
1) You queue up for hours!
PopBuzz
But it's ok because everyone is really rather nice.
2) You lust after all of the sweet, sweet merch on sale.
Before realising that you have no money.
3) You run to get a spot at the front.
Along with everyone else in the room.
4) You wait patiently through the (rather good) support act The Japanese House.
5) You wait impatiently through the set change as anticipation builds.
6) You risk losing your spot by running off for a pee break.
7) You return from your pee break with a cold pint, an UGH! T-shirt, a wristband and a ltd edition clear double vinyl album.
The 1975
You now won't eat for a week because of this.
8) At around 9pm, The 1975 come on stage.
So @the1975 were excellent as per usual. pic.twitter.com/SzhnHvlE7w

— James Wilson-Taylor (@mrjaytee) March 7, 2016
You scream. Loudly.
9) They run straight through a series of hits both old and new in front of a glorious video backdrop with a bright aesthetic you will definitely be stealing for your Tumblr page when you get home.
You scream more.
10) The girl in front of you starts crying at a saxophone solo during "She's American".
11) You have the sudden realisation that Matty Healy is this generation's Jarvis Cocker.
12) You have the sudden realisation that you are the only person in the room old enough to know who Jarvis Cocker is.
13) You spot a disgruntled looking Dad awkwardly dancing to "Menswear" and feel a bit better about your age.
PopBuzz
14) The teenage couple in front of you start aggressively making out but you don't get annoyed because, even though it's slightly off-putting, they are young, in love and think "Robbers" was written about them and it's actually rather sweet.
15) Matty talks to the crowd and you overhear a girl nearby say the following phrase.
He's just an angel - I don't even understand!

Random The 1975 Fan
16) Matty tells everyone to put their phones away for one song and live in the moment. You fight the urge to Instagram him saying it.
17) You spot one person on their phone throughout the aforementioned song. You give them an angry look.
18) They play "Paris". The girl next to you starts crying again.
PopBuzz
19) Everyone jumps around during "Sex" and you spill a bit of your pint which is annoying because it cost at least a fiver.
20) A gospel choir appear for the encore. You find religion.
21) All the girls around you get on their boyfriends' shoulders during "Chocolate" like they are at a festival. It is, again, rather sweet.
22) They play "The Sound". Everyone bounces again. It's very fun but you do spill cider on your nice "going out" shoes.
23) Everyone shouts out the words to "Girls" before it's finally all over.
24) You move in a sea of people all pushing towards the exit, still singing "The Sound" in unison.
25) You wait around the stage door on the off chance Matty decides to do an impromptu dance tutorial in the street.
26) You and 4920 other people descend on the local branch of McDonalds.
27) You give up and order an Uber.
28) You get in the car, playing "Somebody Else" on repeat all the way home.
The driver has never heard of them.
29) You spend the next day reliving the whole glorious experience and wishing you had tickets again for tonight.
A good time all round basically.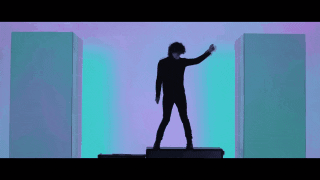 PopBuzz