BRITS 2017: Matty Healy Makes Political Speech While Accepting The 1975's First BRIT Award
22 February 2017, 20:34 | Updated: 8 May 2017, 17:09
BEST. BRITISH. GROUP. YAS.
Sound the alarms! The 1975 have just won their very first BRIT award of the night for Best British Group!
The nominees for the category at the BRITs this year read like a who's who of everyone we would want to play at our own personal summer festival. We had Bastille, Biffy Clyro, Radiohead, Little Mix and of course, The 1975 - who would no doubt play us out with a LIT rendition of 'The Sound'.
The boys took to the stage to accept their award, clad in their snazzy suits and Yule ball attire.
ITV / via giphy.com
Matty then started the speech by graciously taking the microphone, allowing the other boys to sit back and bask in the moment without saying a word for once in their lives.
ITV / giphy.com
He spoke about the beginnings of the band and that fact that the line up hasn't changed since they were 13 years old. Bless.
He then went on to talk about the impact of artists speaking out about political issues - something that Matty does almost every single day. As we all know, he's not one to shy away from calling out the BS that certain people spew on the social networks.
He said: "At the moment, a lot of the time I think people in pop music and in the broader public consciousness are told to stay in your lane. You stay in your lane when it comes to talking about social issues."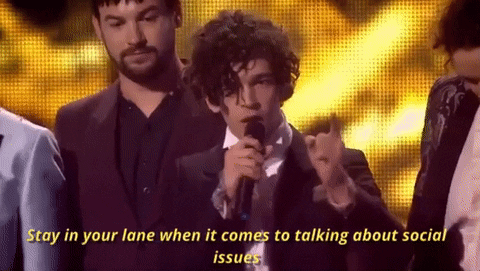 ITV / via giphy.com
He ended the speech by saying: "If you have a platform... DON'T. DO. THAT. PLEASE DON'T DO THAT."
the 1975, brits british group winners, 2017. pic.twitter.com/MWHmdx0YzW

— max (@maxcdesign) February 22, 2017
Congrats boys!
// B E S T B R I T I S H B A N D 2 0 1 7 // @BRITs L O V E pic.twitter.com/v8lXi9pHLo

— The 1975 (@the1975) February 22, 2017