The 1975's 'Sex' Just Got An Emo Makeover And You Need To Hear It
20 January 2017, 12:37 | Updated: 8 May 2017, 17:09
Dashboard Confessional also deliver a new take on Justin Bieber in their surprise new covers EP.
Dashboard Confessional, Chris Carrabba's legendary emo outfit, have just dropped a surprise new EP featuring covers of tracks by some of the biggest names in music.
Dashboard Confessional
Entitled Covered And Taped, the band deliver acoustic renditions of Justin Bieber ("Love Yourself"), The 1975 ("Sex"), Julien Baker ("Sprained Ankle") and Sorority Noise ("Using").
Dashboard Confessional
And while we are used to hearing various stripped back versions of Bieber's pop hit, it's The 1975 cover that really took us by surprise, the crunchy, heavy guitars all removed for a more delicate take on the track, the lyrics now becoming a tale of heartbreak rather than of teenage lust.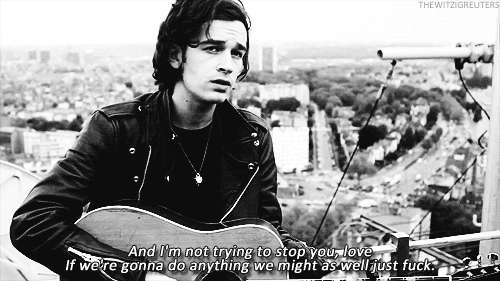 The 1975, Giphy
The 1975 have previously done their own acoustic version of 'Sex' but this new take feels softer, delicate and more, um, well...emo!
Basically, it's really different, but that's not necessarily a bad thing...
But which acoustic version do you prefer? Listen to both below and let us know what you think:
the acoustic version of sex by the 1975 is literally sex pic.twitter.com/DtDAg3NuzP

— dead boyfriend (@unsmokabIe) August 2, 2016
___ ___ ___ ___ ___
From Brendon Urie to The Vamps, here are the best bits from the #PopBuzzPodcast in 2016. Listen right here or subscribe for free on iTunes to get new episodes sent straight to your phone every Wednesday.