UPDATE: Matty Healy Claps Back On Twitter Over Neon Lights Controversy
24 May 2016, 12:59 | Updated: 8 May 2017, 17:09
UPDATED: The Electoral Commission have issued a statement regarding the band.
The 1975's Matty Healy once again took to Twitter last night (May 24th) to address the situation surrounding the EU debate.
ICYMI the UK government have seemingly been using the band's promo imagery as the basis for their new promotional video, specifically the neon light photos designed by David Drake.
The 1975: Neon Signs

I LIKE IT WHEN YOU SLEEP
FOR YOU ARE SO BEAUTIFUL
YET SO UNAWARE OF IT

by David Drake pic.twitter.com/sRzVf1af3A

— QB (@WaldorfWins) May 24, 2016
Many fans had previously complained that Matty couldn't get annoyed as Neon lights are pretty commonplace.
Why is Matty acting like the 1975 invented neon lights/the neon light aesthetic? Also that last tweet oh my god pic.twitter.com/Pc4fYsqB5b

— C h l o e (@weechl0) May 23, 2016
But Matty has clapped back at the haters (while also making a joke out of the admittedly ridiculous situation).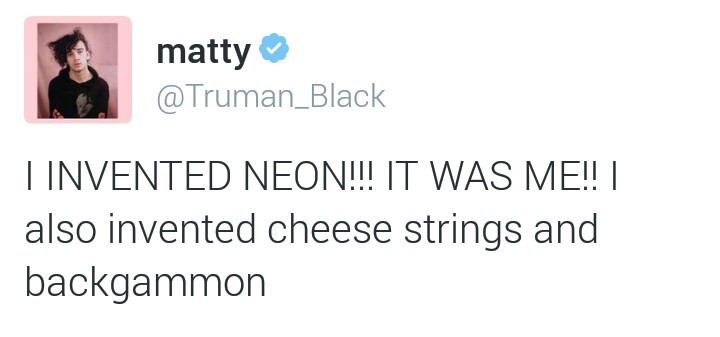 Twitter
He also reminded his followers of the very direct connection between the band and the government campaign.
Matty has since deleted the majority of the tweets, and for a seemingly good reason:
I deleted my tweets through fear of getting assassinated @David_Cameron style !!!!

— matty (@Truman_Black) May 23, 2016
Yikes!
However, at least Olly Alexander's incredible reply remains online.
@Truman_Black u invented me

— Olly Alexander (@alexander_olly) May 23, 2016
When is the collab gonna happen??
Still no word on the matter from the film agency behind the EU clip or the director. We'll keep you posted.
UPDATE 24/03/16
The Electoral Commission in charge of the leaflets have issued a statement to The Fader.
The visuals of the campaign are designed to 'cut through' the noise that everyone will be hearing about the E.U. referendum by creating eye-catching advertising 'you can't miss.' The visual aspect is based on a successful campaign the Commission ran ahead of the Scottish referendum where by polling day, 84% of people surveyed said they recognized the advertising.

Electoral Commission
For reference, here is the Scottish poster they refer to:
Still no comment from the director or film agency responsible.