Matty Healy reveals the rat in Flushed Away was actually based on him
19 April 2023, 11:35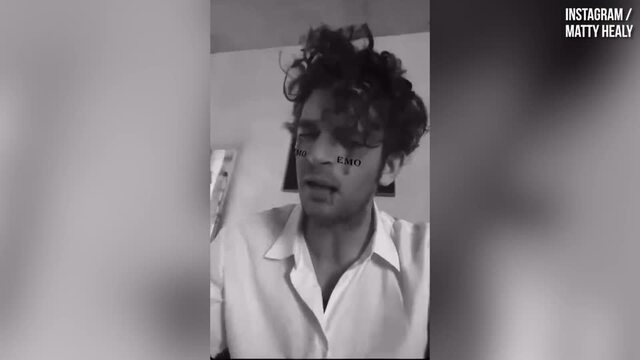 Matty Healy makes fun of Yungblud
According to Matty, his mother Denise Welch's godfather, Ian La Frenais, based Roddy St. James on him when he "was looking for inspiration" while writing Flushed Away.
You may know Roddy St. James, the animated rat of Flushed Away fame, but did you know that the rat himself was apparently based on... Matty Healy?!
Apparently so! The 1975 front man shared a hilarious story with the audience at one of the band's recent shows in Brisbane, Australia. Matty's speech was captured by several people in the audience at the show, and a video from @crmcgovs has now gone viral.
"There's a meme that I'm a specific rat, which, is it the kid from Flushed Away?" Matty told the crowd as he started his story. "This is actually doing me damage. I'm not cashing in on anything there. But we're all friends, and I've seen that meme so many times, and it's made me laugh. And the reason I've not said anything about it is because — I mean, listen, the reason I'm successful is because of this f*cking brilliant band right here."
READ MORE: The 1975's Matty Healy says paid meet and greets are "f---ing gross"
"But as you know my parents are actors. My mother is an actress. She's a legend! Give it up for mum!," Matty continued, as the crowd cheered for his mum, British TV star Denise Welch.
He continued: "Her godfather is a producer, and he produces movies. And I wasn't actually close with him until I was around about probably about 14 years old or something like that. But anyway, he was looking for inspiration for a movie he was producing called Flushed Away."
"So, it is genuinely based on me. I know that seems ridiculous, but if you do enough internet research, you'll be able to be find out that that's true," he added, laughing. "They did a good job, so maybe I am officially a f*cking rat now."
The crowd then begins to chant "Ratty" in relation to the hilarious story.
Even though it sounds absolutely wild, Matty's story may have quite a bit of truth behind it. After a little digging, the internet has managed to find out who Matty's mum's godfather is.
Ian La Frenais, who Denise has previously tweeted about, is indeed her godfather, and he is, in fact, one of the screenwriters for Flushed Away. Matty would have been in his mid-teen years when the film was in the works. Photos of Matty and Ian were also shared in one of Denise's online columns back in 2013.
Roddy St. James low-key based on Matty Healy?! We will never watch Flushed Away in the same way ever again.
Read more about Matty Healy here:
Sabrina Carpenter Breaks Down Her Favourite Lyrics | PopBuzz Meets