Matty Healy On Meet And Greets: "I'm Not Doing It Anymore In America"
21 June 2016, 10:57 | Updated: 8 May 2017, 17:09
The 1975 frontman honestly discusses the Christina Grimmie tragedy, US gun laws and more in fascinating new interview.
Matty Healy from The 1975 has revealed the reasoning behind the band's lack of meet and greet sessions on their US tour.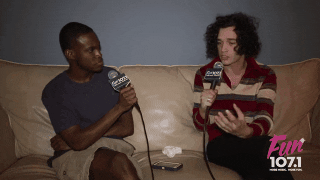 Fun 107.1
Matty was doing an interview with American radio station Fun 107.1 when he was asked about his reaction to the recent Christina Grimmie tragedy, the popstar shot dead at her own show in Orlando.
Understandably for someone in his position, Matty is somewhat fearful of the current climate in the US and has therefore cut meet and greet sessions all together.
While many artists have spoken out about gun laws and how tragic the Christina Grimmie situation was, few have spoken this honestly and openly about the fear that can be brought on by being in the public eye.
What do I think when a young popstar goes outside and get's shot? Is it a legitimate fear of mine to be scared of that? I think it is. And it's not about ego, it's not me thinking I'm f*cking John Lennon...It's a weird time. And people are scared to talk about it.

Matty Healy, Fun 107.1
Artists such as Melanie Martinez and Justin Bieber have previously cancelled or adjusted "meet and greet" sessions citing anxiety but this is one of the few times a musician has spoken about their safety concerns. Given that Matty's comments come just as the US Senate failed to pass new gun control restrictions regarding universal background checks, we can only hope that this starts a wider conversation among fans regarding gig security, safety and, of course, attitudes towards guns.
Watch the full clip of Matty's comments below: