Watch The 1975 Drop A "Damn, Daniel" Mid-Song On Jimmy Fallon
26 February 2016, 10:27 | Updated: 8 May 2017, 17:09
"The Sound" Live!
On the eve of the release of epic 17-track second album I Like It When You Sleep For You Are So Beautiful Yet So Unaware Of It (even the title is HUGE), The 1975 stopped by Jimmy Fallon's Tonight Show, skipping the earlier game of "Slapjack with Gerard Butler" (you can't make this up) and instead running through their current single, the excellent gospel-infused disco bop "The Sound".
But the finest moment comes at around the 3m 16s mark when Matty drops in a cheeky "Damn, Daniel!" mid-song!
Damn Daniel! @the1975 @FallonTonight @Truman_Black @1975hann @Gdans1975

— Nickat Nite (@nickat_nite79) February 26, 2016
Welcome to 2016 people.
Jimmy loved it by the way and they get some more "Damn, Daniel!" action in at the end!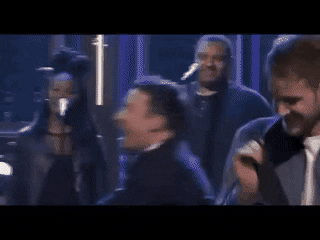 NBC/YouTube
The fact that Jimmy just said DAMN DANIEL! after @the1975 performed I can't #FallonTonight

— Alexa (@Alexa41396) February 26, 2016
The 1975's ILIWYSFYASBYSUOI is out now and the boys will be doing pop up art shows this weekend with Tumblr in both London and NYC.
Check out the video of the full Tonight Show performance below: