The 1975's New Drummer Is From A Seriously Awesome Band
19 May 2016, 14:48 | Updated: 8 May 2017, 17:09
Which early 00s alt legend is taking over George's seat for the tour?
As you've probably heard by now, The 1975 are currently down a drummer as George Daniel has broken his shoulder in the middle of a US tour.
Here he is in happier times drumming away like a maniac.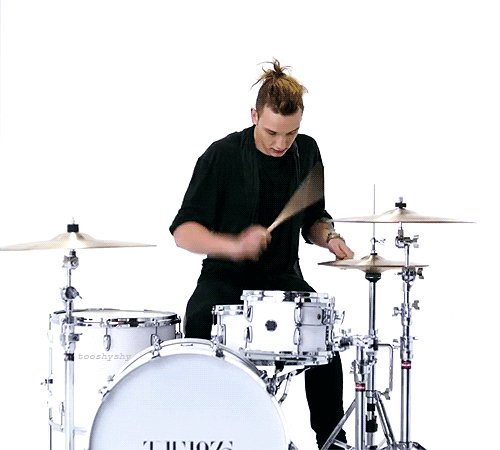 TOOSHYSHY.TUMBLR.COM
Lovely.
But fear not The 1975 fans: George is recovering, no tour dates have been cancelled and now Matty has revealed who the replacement drummer will be for the remainder of the shows.
Drummer 'Dave Elitch' of The Mars Volta will be joining The 1975 for next 6 - 8 weeks in absence of George Daniel

— matty (@Truman_Black) May 18, 2016
Oh yes, get excited!
@fredmacpherson ennit!

— matty (@Truman_Black) May 18, 2016
Dave Elitch is this guy.
Dave Elitch
He's worked with everyone from M83 to Miley Cyrus and even MR JT himself, Justin Timberlake. But his most high profile gig was with The Mars Volta.
In case you've forgotten, The Mars Volta were the incredible, psychadelic jam band that spun out of At The Drive In..., hitting the big time in the early 00s with alt hits like "The Widow".
They became a hit on the festival circuit, supported the likes of Red Hot Chili Peppers and were still releasing albums as recently as 2012.
Dave officially joined them in 2009 - no small feat as the drum parts on those records are insane and he managed to step in mid-tour and pick everything up quickly - just as he's about to do with Matty and the boys.
And just in case you need more convincing, here he is in action:
In short, relax everybody - George's kit is in very good hands.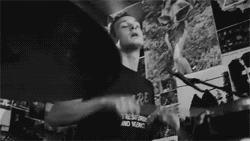 RPHELPER.TUMBLR.COM