WATCH: Is This The 1975's Music Video For "She's American"?
6 December 2016, 09:35 | Updated: 8 May 2017, 17:09
Matty shows off his finest boyband moves in this mysterious new video clip...
The 1975 have finally given us a glimpse of the long-awaited music video for current single 'She's American'.
The band posted a TV commercial for the album on their Facebook page over the weekend (December 2nd), featuring some blurry footage from thought to be from the video of Matty throwing some serious boyband style-shapes with some female backing dancers getting in formation too.
Check out the preview clip below:
The track is the sixth (!) single to be released from the very enjoyable album I Like It When You Sleep For You Are So Beautiful Yet So Unaware Of It (although we maintain that ILIWYSFYASBYSUOI is a great acronym and far easier to write).
Some reports had suggested that the band would be releasing 'Loving Someone' next after the results of the US Presidential Election but it would appear that the video for 'She's American' has already been produced and is all ready to go.
Fan accounts on Twitter previously broke the news back in October, with a release date set for early November.
// She's American will be the new single //

— The 1975 More (@the1975more) 12 October 2016
and according to Music Week "She's American" will be released on November 4 //

— The 1975 More (@the1975more) 12 October 2016
Sadly, we are still waiting.
And, obviously, the fans are going nuts!
Our bodies are ready!
Sadly of course the previous means that it's unlikely we will see Matty having sex with himself again...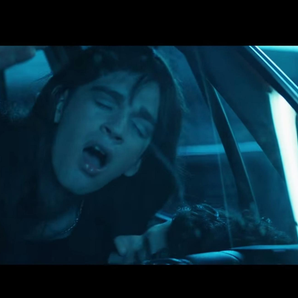 YouTube
It's certainly a, um, memorable image...
The 1975 return to the UK this December for a sold out arena tour including two nights at London's O2 Arena.
___ ___ ___ ___ ___
Catch Pierce The Veil on the #PopBuzzPodcast right now. Subscribe for free on iTunes to get new episodes sent straight to your phone every Wednesday.