The 1975 Won't Be Doing This One Thing When They Release Their New Album
12 July 2017, 11:46
Well thank f**k for that.
2016 was a golden year for albums. Within the first quarter some of the world's biggest artists like Beyoncé, Rihanna and Kanye West all released brilliant albums - but there was a catch. Many of them opted for streaming exclusives with Apple or Tidal for the few weeks of the albums release (this is still the case for Beyoncé's Lemonade - available on Tidal).
We were surprised when The 1975 followed the trend with their second album I Like It When You Sleep... being exclusive to Apple Music as exclusives tended to be reserved only for megastars like Kanye or Jay Z. Now, the band's manager Jamie Osbourne has revealed why the band choose to release exclusively through Apple but also why they won't be repeating it again.
"I would never window a record again, no," he told Music Week. "Because I don't think a lack of consumer choices is ever a good experience. It was a moment in time. The market's changed so much, even in the last 18 months. Spotify were incredibly gracious. We had had conversations about doing something with them. It was just about doing something that was available at that point."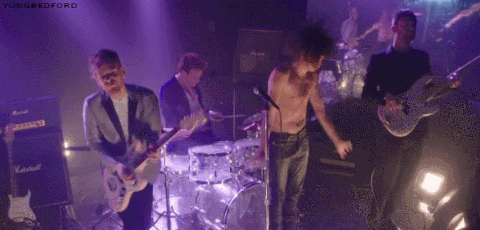 Jamie also spoke about the Los Angeles roof top show that Matty and the boys put on prior to the release, which he thinks was crucial to scoring the no.1 spot on both sides of the Atlantic.
"I wanted a launch event that was global because I wanted to position the band as a global artist. It's very unusual that you have a band of that size that's never been on a TV show in the UK, never been on the front of a magazine. They hadn't had a radio hit in America but, at that point, we were already half a million records deep. So I wanted an event that demonstrated the scale of what we'd built. And doing it with Zane [Lowe] and the [Apple/Beats 1] team just felt like a natural fit."
We can't say we'll miss the days of streaming exclusives, especially now we know that we can listen to the new The 1975 album on the actual day of release - not two weeks later!