UPDATE: The 1975 FINALLY Reveal Huge UK Show
7 June 2016, 11:03 | Updated: 8 May 2017, 17:09
Matty's stopped teasing us at last!
Your prayers have been answered The 1975 fans - Matty and the boys will be returning to the UK this December for a HUGE London show.
The announcement was made this morning via Twitter and Instagram, accompanied by a beautiful new image using their now trademark neon signage.
No further details yet on where they might be playing but it's probably safe to assume the tour will be taking in some of the UK's largest arenas following the Number 1 success of recent album ILIWYSFYASBYSUOI (seriously, we are determined to make this acronym stick! It's so much easier on our poor typing fingers).
Update - now they've added a video. Come on Matty, stop teasing!!!
Update 2 - Now we have an infuriatingly cryptic press release. AAAAHHHH. We need the dates!
In December 2016 The 1975 will play their biggest UK headline show to date. The show will form part of a series of concerts that will be toured worldwide, with expanded visuals and a brand new set list including songs that have never been played live. The 1975's constantly evolving performance will fuse art and technology to create a unique live experience.

The 1975
Someone give us a ticket link before we scream!
Update 3 - At long last, we have the real details.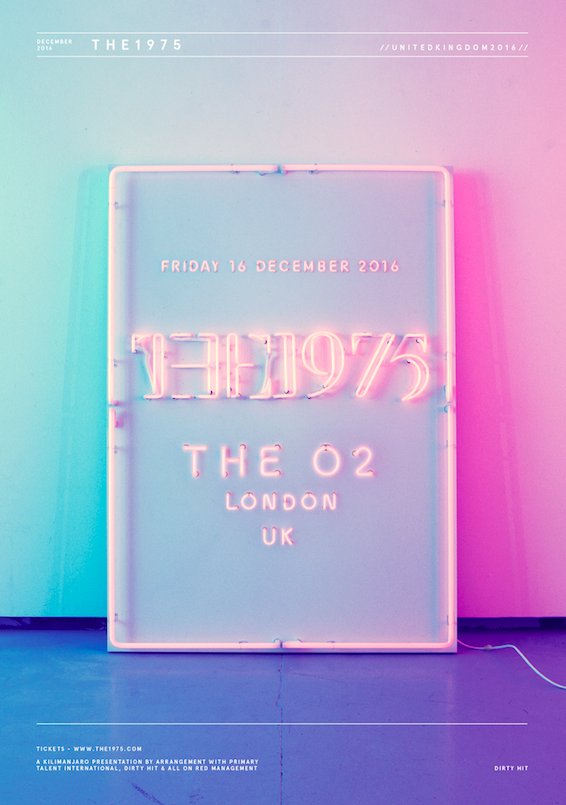 So there ya go. Whole new show apparently with a new setlist and new "technology". Exciting!
Tickets go on sale at 9AM Friday 10th June at the1975.com/live.