Troye Sivan's "Blue Neighbourhood" Is The Album I Wish I'd Had Growing Up
2 December 2015, 15:13 | Updated: 27 December 2019, 14:51
After listening to the album we had a lot of feels...
The biggest battle that Troye Sivan will face with his upcoming debut album Blue Neighbourhood isn't that of music critics (who have already claimed him as a bit of a darling), but from wider culture itself.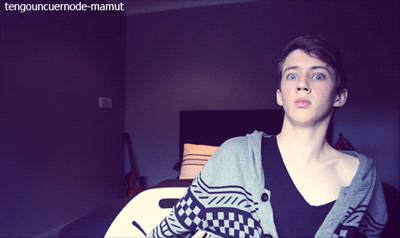 tumblr.com
While artists like Adele and Sam Smith are relatable on an almost molecular level (their beginnings, their relationships, their clothes etc), Sivan's beginnings as a YouTube and social media star will be met with trepidation and scepticism. For some ill-advised and mis-educated people, he is just a byproduct of a reality television-style buzz, a fad that holds little to no weight regardless of how much acclaim he may receive.
Sam Smith is an interesting comparison because, during his incredible rise to popularity, he was, at least 'publicly', in the proverbial closet, unwilling to speak too openly about his sexual orientation. It wasn't until his success was almost secure that he 'officially' came out.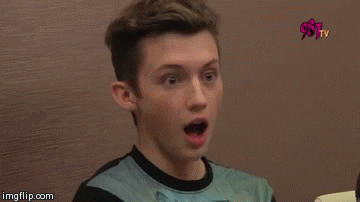 http://slaylovetroyler.tumblr.com/
I know that there's an argument to be made about celebrities disclosing their sexual orientation and why it doesn't matter. With this I would have to agree. Smith was, and is, open about his sexuality and, more than likely, it was some record label politics and image that needed to be maintained until the behemoth that was In The Lonely Hour was released.
Troye Sivan, however, wasn't subjected to this folly of come out, come out wherever you are.
As you all know, Troye is a major Internet player with millions of YouTube views and, at the time of writing, over 3.7 million subscribers. You'll also probably know that he's already secured two Billboard Top Fives with his two EPs, 2014's TRXYE and Wild. And more than likely, you'll also know that Troye's most viewed video is from 2013 and is the moment where he came out to the entire world.
"It feels like it's weird to announce it like this over the internet," he says in the clip, "but I feel like a lot of you guys are like real genuine friends of mine. I share everything with the internet, every aspect of my life with the internet...but this is not something I'm ashamed of and it's not something that anyone should have to be ashamed of. So why not share it with all of you guys."
It's the above quote that personifies, for me, exactly what Troye Sivan is all about; he's created a space in the entertainment industry where he has the ability to pave his own path without compromise with an audience that's, in theory, part of the whole thing.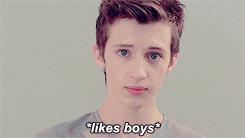 tumblr.com
While Sam Smith was playing around with ambiguity in his videos (see the rather lovely "Leave Your Lover"), Troye is right in the forefront of gay issues, his "Blue Neighbourhood Trilogy" of videos not only capturing life in the suburbs, but also the struggles that many LGBTQ people face. The forceful beauty of the trilogy doesn't just make social statements, but also those of hope (or, as it appears, lack thereof), inspiration, relatability, youthful fearfulness and sheer unabashedness.
I really want the parents of my audience to see these videos actually. And realize that their reaction influences their kid's entire experience. Showing them two sides of the coin: this is how it could go or this is how it could go. It's up to you.

Troye Sivan/The Fader
Now, it's never going to possible to unilaterally represent everyone; people are different and experience different things. But listening to Troye's first proper album, Blue Neighbourhood, you're hit with a distinct familiarity; the accessibility and frankness that has made him such a popular YouTuber are omnipresent throughout the record.
From the opening lines of "FOOLS" ("I am tired of this place, I hope people change."), the humming parental yearning in the Broods assisted "EASE", to the popping "YOUTH", Sivan is navigating the transitions of impending adulthood (just with a record deal, tour dates and legions of adoring fans).
One of the album's standout tracks "HEAVEN", featuring fellow Australian singer Betty Who, is sonically joyous, while battling with themes of repression and questions of confusion. The static punctuations of pianos and thrilling scatterings of percussion mimic the stream-of-consciousness lyrical style, as Troye sings, "Without losing a piece of me/ How do I get to heaven?/ Without changing a part of me/ How do I get to heaven?" It's simple, but within these rhetorical questions are the thoughts of thousands, if not millions, of confused and different young people.
Where the album excels, however, is in the more autobiographic, personal moments. The chilling "TALK ME DOWN" is an eye-opening meditation on the uneasy progressions of young love and crippling self-doubt. Likewise, the ominous "BITE" and it's journey into the underworld of gay clubs and overt sexuality is creepy, illuminating and sonically arresting (and scarily reminiscent of my first time in a gay club).
While in 2015 it shouldn't be 'a thing' that songs sung by singers are about people of the same sex, it seems that these things are made issues out of. What Troye so expertly does is navigate normalcy through these situations, like on the punchy electric piano tinged "for him" featuring rapper All Day, a traditional love song in a John Green novel, warming Instagram filter way. "We make a really good team/ And I hope everyone sees/ We got a really great chemistry, between us," he sings in the first verse, before ending the chorus with the declarative statement, "All I need is you" in what becomes one of the album's lighter moments.
For those tempted by the standard edition of Blue Neighbourhood don't give in, as the deluxe edition is an essential listen. Bonus track "TOO GOOD", a rousing melancholic Weeknd-lite song, is the album's peak and is, lyrically, the most mature as he sings with a drawl, "Too good to be good for me/ To bad that that's all I need." Also, the song is sexy as hell, complete with electric guitar outro; there's plenty of 50 Shades of Troye going on right here.
Fingers walk your thigh/ Breathe my love, get high.

Troye Sivan - "Too Good"
Growing up different, whether that's as part of the LGBTQ community or not, can be a struggle. What Troye achieves with Blue Neighbourhood isn't just a compelling collection of songs full of stellar songwriting and fizzing, alternative production, but something wider; he's providing an new narrative of normal for those without one.
He might not be molecularly relatable like Adele or Sam Smith, but it seems that's not the point. The music is too left field and lyrics are at times too, well, gay. But then, perhaps, it's this that makes the record so assured. Unknowingly or not, Troye has created an album of tumblr lyric posters waiting to happen, and that's no bad thing. This is a record to obsess over.
There's so much here that, as a kid, I know I would have latched on to, from the seductive sexual undertones to the freeing and fearful transitions into becoming an adult (see "Suburbia" and it's soaring chorus). Also, there's reassurance that someone in the mainstream is lying in bed questioning themselves just as I, and surely a bunch of other teens, were before they came out. There's no gloss or pretence here, it's just real, even in its specificity.
In a recent interview with entertainment site Idolator, Troye said the following: "When I meet these kids in person, they'll whisper in my ear that they aren't straight. I'm the first person that they have ever told." This is both a warming and sad statement. It's lovely that Troye has become a person that young LGBTQ people feel that they can talk to, but it's heartbreaking that he is the only person they feel that they can talk to.
I know that when I was younger, I wish I'd had an album exactly like this. Now, I'm just glad and so happy that it exists. Hopefully, by releasing Blue Neighbourhood, Troye Sivan will be able to become the metaphorical ear for a multitude more young people and prove a few naysayers wrong along the way.