Troye Sivan was catfished by hackers pretending to be Greta Thunberg
27 March 2020, 12:35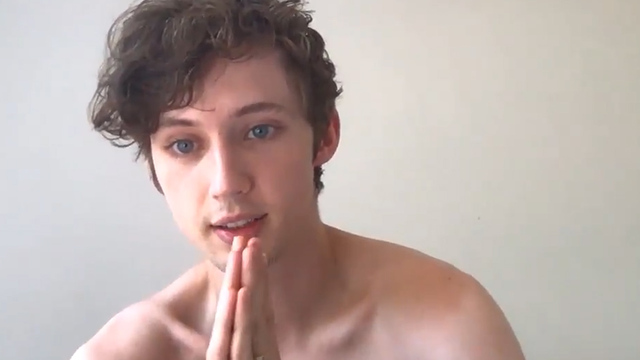 Troye Sivan explains how he was catfished by a hacker pretending to be Greta Thunberg's dad
Troye Sivan took to Twitter to explain how he was tricked into thinking that Greta Thunberg wanted to work with him.
Troye Sivan just revealed that he was catfished by Russian hackers claiming to be Greta Thunberg's dad in a hilarious video.
Troye Sivan may be an international popstar getting ready to release a brand new single ('Take Yourself Home' drops April 1), but that doesn't mean that he's immune to catfishing. The 24-year-old took to Twitter last night (Mar 26) to post a video and state that he was recently hoodwinked, bamboozled, led astray, run amok and flat out deceived by a group of hackers.
READ MORE: Troye Sivan hilariously rejects Tyler Oakley's offer to collab and it's savage
In "story time: I got catfished", Troye said that he was made to believe Greta Thunberg wanted to work with him.
In the video, Troye revealed: "A couple of months ago, Dani, who's my manager, reaches out to me and she goes 'My dude I have the sickest opportunity of our entire careers thus far and I'm like 'Oh my god, what?', and she says, 'You'll never guess who I had a phone call with today' and my mind is running a million miles a bit."
He continued: "She said, 'Today, I had a phone call with Greta Thunberg's dad. Her father and I spoke on the phone today.' So I was like, 'Well, what did you talk about?' and she's like, 'Greta is a huge fan and Greta is working on this thing called Stars Save the Earth. Is it okay if I give Greta your phone number?'"
Troye then went on to say: "I was like of course. I message her on WhatsApp and I say 'Hey Greta, this is Troye Sivan, I just wanted to say, I'm so inspired by your work. I think you're the coolest thing ever. If there's any way that I can be of any service, please let me know.' Time goes by, she doesn't reply."
He explained that Dani later found out, after watching interviews of Greta's dad on YouTube, that she'd been talking to someone else. "Now I died laughing. To me this was the most hysterical thing," said Troye. "The fact that my ego was big enough to think that Greta Thunberg 100% wants to save the planet together."
Troye later found out that other stars got hacked by the same people. He said: "It turns out it's these Russian hackers that did this elaborate scheme. They got Bernie Sanders, they got Prince Harry, they almost got me." Troye then shared screenshots of his texts with the fake Greta.
In short, if Greta Thunberg's dad contacts you, maybe think twice before replying.