LISTEN: Troye Sivan, Halsey, And Others Team Up For Orlando Victims Charity Single
6 July 2016, 11:43 | Updated: 8 May 2017, 17:09
Listen to 'Hands' for Orlando
Troye Sivan, Halsey, Selena Gomez, P!nk, Britney Spears and loads more have teamed up to record a charity single to raise money for victims of the Pulse nightclub shooting.
The attack was the most deadly mass shooting in American history and lead to the deaths of 49 people, and injured 53 others. Listen to 'Hands' below.
The song was written by Justin Tranter and his songwriting partner Julia Michaels. Tranter has written songs for the likes of Gwen Stefani, Selena Gomez, DNCE, Hailee Steinfeld, Justin Bieber, among many others. After learning of the attacks, he signed on as a volunteer at The Center Orlando, the region's chief LGBT community center and wrote this song while on tour with Selena Gomez.
Artists recorded parts of the song all over the country, with Tranter and Michaels deciding who would sing each bit. "We assigned everybody what we thought would be the best part for their voice and we asked them all to sing an additional part, just in case. But everybody got it done in time so we ended up with extra vocals."
"Mary J. Blige recorded in New Orleans. Britney Spears in Thousand Oaks, I think. Pink in Santa Barbara. MNEK recorded at home in London. Selena recorded in her studio bus. Dan Reynolds recorded in his home. Adam Lambert was in Luxembourg. Ty Herndon the country star was in Spain. Kacey Musgraves, Nashville. Everyone just got it done."
We think it's amazing that so many artists have come together to show solidarity with the LGBTQ community at this dark time. We will definitely be purchasing a copy of the song and we'd urge all of you to do the same!
The full list of artists is: Mary J Blige, Jason Derulo, Britney Spears, Tyler Glenn, Selena Gomez, Halsey, Ty Herndon, Imagine Dragons, Juanes, Adam Lambert, Mary Lambert, Jennifer Lopez, the Trans Chorus of Los Angeles, Kacey Musgraves, MNEK, Alex Newell, P!nk, Prince Royce, Nate Ruess, RuPaul, Troye Sivan, Jussie Smollett, Gwen Stefani, and Meghan Trainor.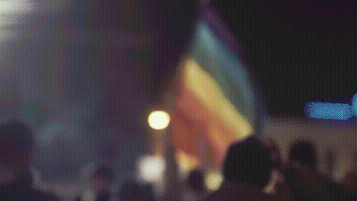 giphy.com