Here's How You Can Get A Troye Sivan Ticket Upgrade For Free
17 October 2016, 16:31 | Updated: 8 May 2017, 17:09
Sign me up!
Are you going to Troye Sivan's Suburbia tour? Well you might be able to get a cheeky upgrade in ticket thanks to this brilliant scheme Troye is running during the tour.
As Troye revealed on his Twitter account, during the Suburbia tour he will be working with the Ally Coalition, a charity that supports LGBTQ causes and fights against discrimination through education, awareness and advocacy. In each city, the Ally Coalition will pick a local charity from their network and they will ask fans to help support them with donations.
the day or so before the show in each city we're going to be posting deets about partnership with the @allycoalition and local charity

— troye sivan (@troyesivan) October 15, 2016
ill be letting u know a bit about the local organisation and what type of donations we'll be looking for to help out the most

— troye sivan (@troyesivan) October 15, 2016
The donations depend on what the charity needs most, so last night (16/10) in San Francisco, for example, it was food for Youth Spirit Artworks, who help homeless and low-income youths.
A portion of all tickets sales went to The Ally Coalition already but that hasn't stopped Troye fans volunteering to help the charities in their spare time too, which is a pretty amazing thing to do.
And if you needed that extra little incentive to help out, some lucky fans are being rewarded with a free ticket upgrade for their efforts. We don't know if this is definitely going to happen each night but we wouldn't bet again it.
Bring a healthy snack 2donate tonight to @Youthspiritart with @troyesivan and u could win a tix upgrade#SuburbiaTour #InclusiveSchoolsNow

— The Ally Coalition (@allycoalition) October 16, 2016
So if you're heading to any of the stop on Troye's tour, make sure you head to the Ally Coalition's twitter page on the day to see how you can help with LGBT causes and earn yourself a ticket upgrade!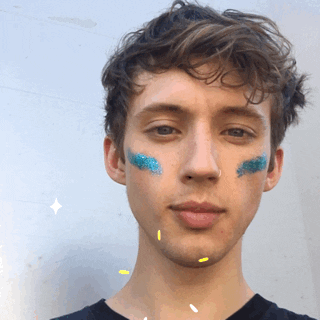 giphy