"Josh Dun As Cats" Is The Twitter Account You've Been Waiting For
21 March 2016, 10:00 | Updated: 8 May 2017, 17:09
His name is Purryface.
You may well have noticed that popular drummer and all-round nice guy Josh Dun is rather friendly towards those of a feline persuasion.
http://cute-pictures-of-josh-dun.tumblr.com/
Yes, Josh loves cats.
But wait, we hear you wonder - what if Josh actually was a cat? And how would that look if it was collated in some kind of humorous tweet form?
February 27, 2015
Wonder no more Skeleton Clique - Josh Dun As Cats is your new favourite twitter account!
February 18, 2015
Turns out Josh has been a cat this entire time!
February 18, 2015
Well, in spirit at least!
February 18, 2015
Does Tyler know about this?
February 18, 2015
Head over to twitter now and celebrate everyone's favourite drumming cat.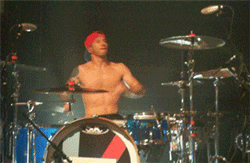 TALENTLESS-TEENAGERS.TUMBLR.COM