WATCH: Twenty One Pilots Add Sign Language Interpreter To Special Performance Of 'Ode To Sleep'
YouTuber 'Andy Signs' got to meet and perform with his heroes during a stop on their Emotional Roadshow.
Twenty One Pilots have posted a brand new live video online featuring YouTube sensation 'Andy Signs' interpreting the lyrics along with the band.
Andy, a deaf performer who has become known for his cover videos of the likes of The Chainsmokers, Childish Gambino and Muse, announced in a video last week that he would soon be meeting his heroes Tyler and Josh.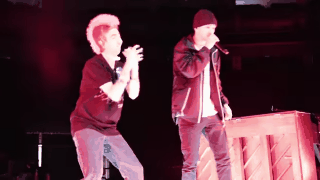 YouTube: Andy Signs
And now, his dream has become a reality, performing the impossibly quick-moving 'Ode To Sleep' onstage before one of TØP's recent Emotional Roadshow gigs.
But, even better, Andy revealed the heartwarming greeting he received when he arrived for the video shoot.
YouTube
Every fan's goal right there!
Check out Andy's full performance of 'Ode To Sleep' with Twenty One Pilots below: