Twenty One Pilots fans think Josh Dun and Debby Ryan already got married
14 April 2020, 16:08 | Updated: 14 April 2020, 16:21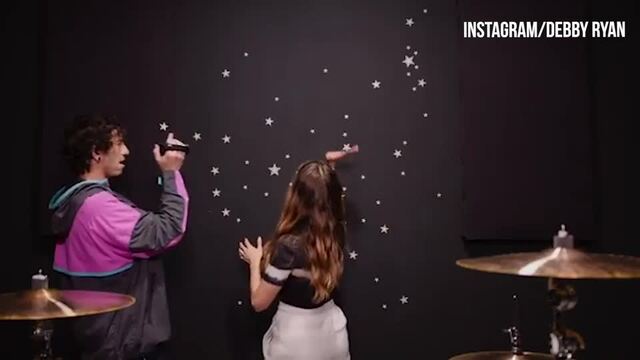 Debby Ryan shares behind the scenes footage of Twenty One Pilots' Level Of Concern video
Are Josh Dun and Debby Ryan already married? Fans spot Josh wearing a wedding band in the Level of Concern video.
Last week (April 9), Twenty One Pilots dropped a brand new, surprise song called 'Level Of Concern' – their first new material since the Trench era.
The absolute bop of a track was accompanied by a homemade music video, featuring both Josh Dun and Tyler Joseph, along with Tyler's wife Jenna Joseph and their baby daughter Rosie, all at home during the coronavirus quarantine. Debby Ryan, Josh's fiancée, also appears in the video.
READ MORE: Josh Dun invited The Rock to his wedding and got turned down in the funniest way
In case you didn't know, Josh and Debby announced their engagement in 2018. But after analysing every scene, fans are now wondering whether or not the couple are actually already married. In the 'Level Of Concern' video, fans have pointed out that you can see a wedding band on Josh's ring finger.
So I showed my mom the Level of Concern video. And she asked if Josh and Debby got married already. Because Josh wears a ring too. Sooo DID THEY GET MARRIED ALREADY?!? pic.twitter.com/df0gRhwb0W

— Abbieeee (@Joshisamoodtyl2) April 9, 2020
Josh and Debby shared their engagement with fans on social media back in December 2018. The couple posted a series of gorgeous shots of the proposal, which took place in a tree house in New Zealand, on Instagram.
Although fans think that the couple may have got married in December 2019 while celebrating New Years, they have not shared any updates on Instagram with their followers confirming the news. So, we'll leave it at that and wait for them to decide if they want to share the happy news themselves.
Whether they're married or not, congrats to Josh Dun and Debby Ryan for... being Josh Dun and Debby Ryan, tbh. #Jebby