"Josh Dun Huns" Assemble: Why 2016 Is Our Year
1 February 2016, 12:22 | Updated: 8 May 2017, 17:09
Are you one of us?
A new religion has been started. A catchphrase is catching fire. A way of life has taken us all over, easily summed up in just three simple words - Josh Dun Hun.
Way back in the early days of 2015, we at PopBuzz discovered that one of our female writers (who will remain anonymous but, lets be honest, its a 1 in 4 choice) was what can only be described as a Josh Dun Hun aka a fan of not only Twenty One Pilots but a fan of really everything Josh does and says, her life brightened by his very presence.
We enjoyed this turn of phrase so much that we wrote quizzes, we compiled gifs and we made membership cards.
Make sure you print yours out now!
We asked Brendon Urie who gave us his opinion. We even tweeted Josh Dun's Mum to see if she was a Hun. And she is.
Done.
And now the cult of Dun is spreading even further as this weekend we noticed that one of you lot went on Tyler's wikipedia page and inserted this little detail.
Alright WHICH ONE OF YOU CHANGED TYLER'S WIKI OCCUPATION TO JOSH DUN HUN pic.twitter.com/bMOlZJ6KNP

— PopBuzz (@popbuzz) January 31, 2016
Nicely Dun.
So, where to go next with this glorious cult?
Well, first, lets get these t-shirts made up.
Come through Hot Topic!
Then, we need to get a written or verbal confirmation from Tyler that he is, in fact, a Josh Dun Hun. Only when our spiritual leader uses the phrase will this exquisite club be truly validated.
So, our suggestion is that we all tweet Tyler and see if we can get a response. Together, we can spread the gospel of Dun.
Well Dun Everyone.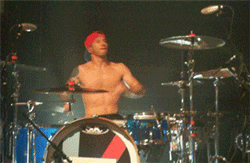 TALENTLESS-TEENAGERS.TUMBLR.COM