Smash Mouth Are Fighting With Twenty One Pilots Fans On Twitter And WTF?
27 June 2017, 16:54 | Updated: 27 June 2017, 16:58
The skeleton clique have gone to war with the 'All Star' hitmakers in the strangest online argument of 2017.
Well, here's a story we certainly didn't expect to write today - Smash Mouth, the Shrek-soundtracking All Stars you know and love, have got into an unexpected Twitter war with Twenty One Pilots fans. Yes, really.
It all began with this short exchange with a fan online on Sunday (June 25th).
Twitter
Hot damn.
Safe to say, some members of the clique were none too pleased and a 'healthy' debate soon followed.
Twitter
"If you're a fan you should know that". Man, that is some fighting words right there.
And it only gets worse...
Twitter
Twitter
Twitter
Twitter
Ok, seriously, what the fuck is going on here? Why is this debate even a thing? Why do Smash Mouth have time to argue with teenage TØP fans on social media? We have so many questions.
Smash Mouth have been walking it all back a bit and may have even just been playing with the clique the whole time:
Twitter
Ok, but still - not cool bro.
At the time of writing, Smash Mouth are still in the middle of clique-baiting (see what we did there?) so we'll keep you posted if there are any further weird AF developments.
Because when it comes to online debates, it's never ogre.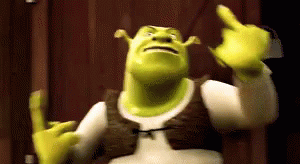 Giphy
____ ____ ____ ____ ____
Listen to the #PopBuzzPodcast with GLOW's Alison Brie right here or subscribe for free on iTunes to get new episodes sent straight to your phone every Friday.