WATCH: New Version Of "Heathens" Revealed In Leaked Suicide Squad Footage
4 October 2016, 11:19 | Updated: 8 May 2017, 17:09
The DVD release will feature a few extra treats for fans of the squad and Twenty One Pilots...
Suicide Squad, the most talked about movie of the summer and number 1 choice of Halloween costumes for everyone with a Hot Topic gift card to use, is released on DVD this November and some new footage has leaked onto Reddit.
Spotted by Morning News USA, the updated end credits sequence features all new graphics and colourful names flashing across the screen, all soundtracked by an all new take on Twenty One Pilots' HUGE single "Heathens".
Yes, that's a new version of "Heathens".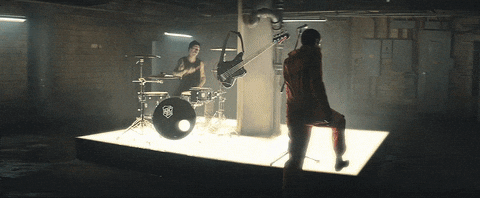 Atlantic Records
A million clique members just died and came back to life.
The new take is actually pretty similar to the original (sorry) but it does include some very snazzy strings and orchestral noises giving it a more "cinematic" feel.
The DVD is said to feature up to 30 minutes of bonus footage which should at least please Jared Leto after his endless complaining over his shortened role in the film. Guess we'll find out when the DVD and Blu Ray officially drops in November.
Check out the new Suicide Squad credits sequence below:
___ ___ ___ ___ ___
In this week's edition of the #PopBuzzPodcast, we chat to YouTube legend Joe Sugg about his brand new graphic novel "Username: Regenerated" and grill him as he enters the PopBuzz Confession Booth! What is the most embarrassing thing in his web browser history? What does he hate most about YouTube? And when was the last time he sh*t his pants? Find out below!
You can listen to the entire episode right here on Soundcloud, or you can download it straight from iTunes, Audioboom or TuneIn.