Twenty One Pilots 'Tour De Columbus' Is Happening & Here's Everything We Know
15 June 2017, 10:54
Here's how you could see Tyler and Josh return to Columbus, Ohio for some very special gigs.
UPDATE: 15/06/17
It's nearly here! The shows of the year and the end of an era for Twenty One Pilots as they wrap up their epic Blurryface tour in their hometown.
So, what have we learned about these special gigs as they approach?
Well, for a start, there's these incredible looking limited edition t-shirts that have begun popping up at Hot Topic stores in the Columbus area and, honestly, we are so damn jealous.
Hot Topics in Ohio are now selling limited edition Tour De Columbus tour shirts pic.twitter.com/g9oyZBoz7s

— TØP Updates (@topupdating) June 15, 2017
Want!
Plus, although all the gigs are sold out, you can still win tickets through local radio station giveaways like this one:
No tickets to see Twenty One Pilots Tour De Columbus? No worries. Find out how to win tix to every show. https://t.co/4LZAlvnI24 pic.twitter.com/7SsGSy8TIF

— WNCI 97.9 (@979WNCI) June 11, 2017
Again - want!
We'll bring you the full setlists, timings and all the other details as the shows take place. Happy tour everybody!
UPDATE: 30/03/17
It's all kicking off in Columbus!
Tyler and Josh have now added yet another show in their hometown, this time at the huge Schott arena.
adding the schott to #tourdecolumbus. ALL verified registrants get a code for a presale starting thursday, 5pm et. first come, first serve. pic.twitter.com/IGB836H4kh

— twenty one pilots (@twentyonepilots) March 29, 2017
Lovely.
So, if you've registered for a presale code (or found a friend's one on, I dunno, the band's Reddit page for example) then get ready for 5pm EST today, March 30th and follow these handy instructions:
UPDATE: 27/03/17
Turns out the boys are playing two more shows in the local area at equally small venues! Check out the list of dates below: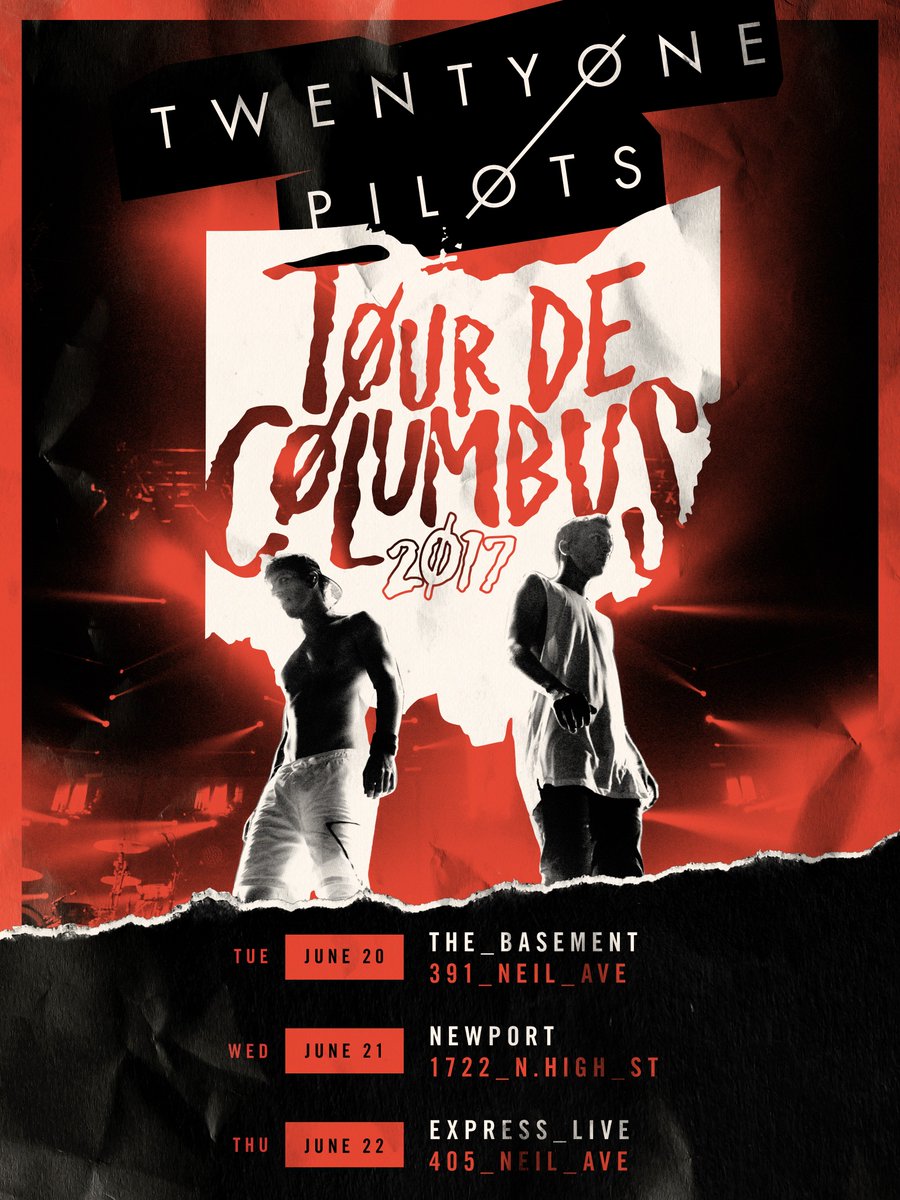 ORIGINAL POST
Twenty One Pilots have announced a tiny one-off show in their hometown of Columbus, Ohio.
The band confirmed on Twitter this morning (March 27th) that they will play the 300 capacity The Basement venue on June 20th:
we are coming home. join us at the basement in columbus, ohio june 20th. details to come. pic.twitter.com/bxDAMHs0XL

— twenty one pilots (@twentyonepilots) March 27, 2017
The show, wonderfully entitled Tour De Columbus, is now listed on the venue website, with tickets priced at $39.50.
The Basement • Tour de Columbus pic.twitter.com/6vq1uVy55l

— Twenty One Updated (@topupdated) March 27, 2017
Tyler and Josh have been selling out arenas across the world for over a year now so this sweaty smaller show will be a must-have ticket for all members of the skeleton clique.
Twenty One Pilots are coming back to Columbus, Ohio to a 300 capacity basement June 20th pic.twitter.com/u37aCpF5QV

— TØP Updates (@topupdating) March 27, 2017
The band also have a history with The Basement, last playing there in 2013 for a secret show in celebration of the launch of their album Vessel.
And if you wanna know just how small this place really is, check out the virtual tour of the venue below:
Yeah. Imagine the hamster ball running over that crowd.
Further details on the show are expected soon, keep your eyes on the band's official Twitter feed for more info.