Twenty One Pilots Up For "Worst Band" Award Against 5SOS And Fans Are NOT Happy
13 January 2017, 11:04 | Updated: 8 May 2017, 17:09
5SOS have got some competition at this year's NME Awards for the much sought after Worst Band gong.
Our boys have done it again - 5SOS are nominated for the coveted Worst Band gong at this year's NME awards!
Dreams really can come true!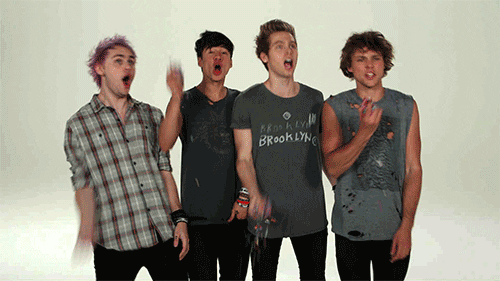 Giphy: MTV
5SOS have been repeatedly nominated for this and similar awards and have frequently rallied their fans to vote and ensure they always win, celebrating each victory on social media, which is probably the best way to handle these type of things tbh.
5SOS will compete for Worst Band against their fellow nominees The Chainsmokers, Honey G, Clean Bandit, Nickleback and Twenty One Pilots in the public vot.....wait, hang on...
Twenty One Pilots got nominated for Worst Band?!?!?!?!?!
Giphy
Are you kidding me? After the HUGE year they've just had?!? No. Just....no.
No word yet from Tyler and Josh on their nomination but we hope they take a similar attitude to the 5SOS boys, laugh it off and encourage the clique to bombard the voting system. Let's get a real battle of the fandoms going here!
On a more positive note, The 1975 scored four nominations, shortlisted for Best British Band, Best Album, Best Track and Best Live Band. They are beaten only by Beyoncé who leads with five nods including Best International Female.
The NME Awards take place in London on February 15th. Get the full list of nominations and cast your votes here.
___ ___ ___ ___ ___
From Brendon Urie to The Vamps, here are the best bits from the #PopBuzzPodcast in 2016. Listen right here or subscribe for free on iTunes to get new episodes sent straight to your phone every Wednesday.