Watch Smol Beans Twenty One Pilots Discuss Their No. 1 Album
11 December 2015, 10:48 | Updated: 8 May 2017, 17:09
BAHH, SO CUTE.
At the end of the year, people tend to get retrospective about the past 12 months and, it seems, musicians are no different, especially our fave smol beans Twenty One Pilots.
As part of Billboard's end of year round up, the music magazine and chart company have created a video about 2015's amazing year of music focused on those artists and acts that made it to Number One.
Given that their fourth album Blurryface went in a Number One, it's no surprise the precious babies Tyler and Josh pop up in this clip, along with their record label execs.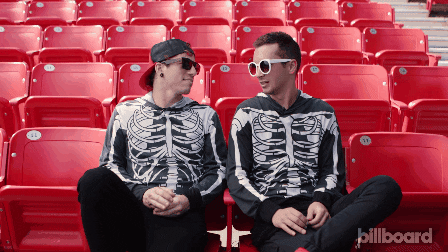 PopBuzz/Billboard
Just look at 'em.
The band talked about how the record was written on the road and inspired by their now legendary live shows.
Also featured in the video is Shawn Mendes and the lovely Selena Gomez, who discusses mega-smash "Good For You".
Watch the video below.