BREAKING: Twenty One Pilots Show Causes An ACTUAL EARTHQUAKE (Sort Of)
27 May 2016, 14:25 | Updated: 8 May 2017, 17:09
When Josh and Tyler play a gig it LITERALLY DESTROYS!
Breaking news from Ottowa as Twenty One Pilots inadvertently caused the ground to shake, CBC News reporting that their April 1st concert at a local venue caused damage similar to that of a low-magnitude earthquake.
Giphy
Yes, Hurricane Tyler and Storm Dun swept aggressively across Canada, destroying everything in their path from gym ceiling tiles to...well, actually that's about it.
At least they've got a ladder ready!
But wait, there's more fren-based destruction discovered as CBC obtained several documents sent to the mayor's office detailing excess damage including...
Some light fixtures had safety chains connected to sprinkler piping instead of to the structure.

Large can-type speakers fell to the floor because they weren't properly secured with safety chains.

A mirror on the gym's south wall shattered.

The ceiling's tile framing system gave out because it wasn't braced to the building.
In other words, Twenty One Pilots are a machine hell-bent on destruction.
I mean just look at these evil faces!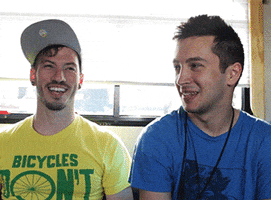 Giphy
Despicable.
Although, in fairness, it does look like they were seriously shaking the room that night.
@twentyonepilots literally has @TD_Place shaking

— Tyler (@_Tyler65) April 2, 2016
Impressive.
Where will they strike next? We'll keep you posted.