WATCH: Go Backstage With Twenty One Pilots In European Tour Diary
31 October 2016, 11:45 | Updated: 8 May 2017, 17:09
Follow Tyler and Josh as they trek through Europe.
Twenty One Pilots' "Emotional Roadshow" tour has finally arrived in Europe and we've now got our first sneak peek backstage in a brand new video...
Youtuber and musician Bry has been warming up the crowd for TØP around the continent, filming his progress as he goes and offering the Clique a few glimpses into Tyler and Josh's on the road routine.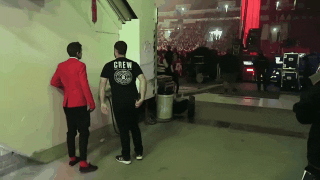 YouTube
Bry will be documenting his insane trip with the boys in regular video diaries you can catch over on his channel.
Bry previously spoke to our friends at We The Unicorns about how excited he was to have this crazy opportunity:
I opened for the guys last year and when I met Tyler and Josh I just told them over and over that I love them, in this embarrassingly high volume. Apparently I was literally just shouting at them. They ended up watching my show and have been so supportive ever since. I'll try be a bit more casual when I see them next.

Bry
The "Emotional Roadshow" arrives in the UK later this month for two shows at London's Alexandra Palace.
Watch the first tour diary below:
___ ___ ___ ___ ___
Listen to this week's #PopBuzzPodcast featuring The Chainsmokers right here on Soundcloud, or download for free from iTunes to get new episodes sent straight to your phone every Wednesday. You can also find us on AudioBoom or TuneIn - if that's what you're into.