Twenty One Pilots Have Read Your Fan Fic And Here's What They Think
6 April 2016, 12:41 | Updated: 8 May 2017, 17:09
Tyler's latest radio interview is pretty revealing.
TØP frontman Tyler Joseph stopped by 99.1 Fresh Radio this week for an in-depth chat and dropped some juicy details about his interactions with fans.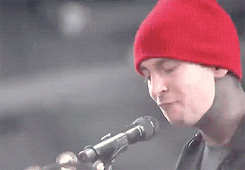 PVRISJAUREGUI.TUMBLR.COM
Tyler was in Winnipeg as the band continue their world tour before hitting the festival circuit later this summer, including UK shows at Reading and Leeds in August.
99.1 host Vicki quizzed Tyler about his thoughts on fan fiction and, in particular, a story she found about him eating a bunch of bad tacos, which, as Tyler notes, can't be true because "there's no such thing as a bad taco".
I don't look down on that stuff. As long as it's something they're creating themselves - I know some of the stories are a little twisted and odd but it's still art. I don't disagree with the ability to create something out of thin air.

Tyler Joseph
Vicki then pushed even further to find out if he has any faves he's ever read about himself and the subject of TØP shipping came up.
I've never really dug deep into that stuff. But there's a lot of stuff where Josh and I are like making out and all kinds of other things and I think that's like...honestly, Josh and I think its pretty hilarious. Our friend Mark looks them up and he'll read them to us and we just die laughing, we think its funny.

Tyler Joseph
So there ya go. Ship away if you want guys, they clearly get a kick out of it.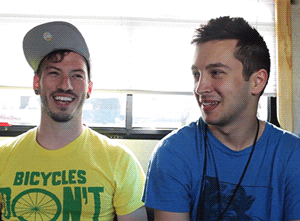 GIFSGALLERY.COM
Check out the full interview with Tyler below: