WATCH: These Twenty One Pilots Fans Recreated ALL Of Their Music Videos
28 December 2016, 14:52 | Updated: 8 May 2017, 17:09
Those Who Dream went all out with their cover version of 'Guns For Hands'.
A pair of Twenty One Pilots fans have made the ultimate tribute to Tyler and Josh, recreating all of the band's music videos to form one epic mash up.
Musical duo Those Who Dream recently recorded a cover of 'Guns For Hands' and have now unveiled a special YouTube clip to go with the track, featuring familiar scenes from the TØP back catalogue.
And considering they don't have any major label cash behind them, it's all looks very impressive.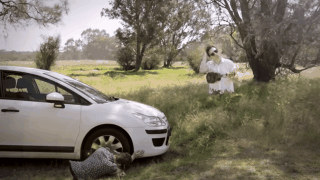 YouTube
How did they get rid of the legs?!?
Check out the full video below:
___ ___ ___ ___ ___
YOU voted and results are in! Who won the Album of the Year at the PopBuzz Fan Awards? Listen to the #PopBuzzPodcast right here or subscribe for free on iTunes to get new episodes sent straight to your phone every Wednesday.