UPDATE: Twenty One Pilots' Miss Out On Best Song Oscar Nomination For "Heathens"
24 January 2017, 13:38 | Updated: 8 May 2017, 17:09
#TheCliqueIsNOTGoingToTheOscarsParty
Update - 24/01/2017
Well, after a hard-fought campaign, we are sad to report that Twenty One Pilots have narrowly missed out on an Oscar Nomination today for Best Song, 'Heathens' failing to make it into the final five eligible tracks.
Tyler and Josh were beaten to the punch by Justin Timberlake's 'Can't Stop The Feeling', Moana's 'How Far I'll Go', 'The Empty Chair' by Sting and Jim Foley and two (!) songs taken from La La Land.
Sad news, Heathens didn't get nominated.#TheCliqueAreNOTGoingToTheOscarsParty...#OscarNoms pic.twitter.com/erABudAyx6

— PopBuzz (@popbuzz) January 24, 2017
Sad times. Also, Lin Manuel Miranda had better win this now right?
Side note - Suicide Squad is up for Best Makeup. So there's that...
Update - 13/12/2016
We are on our way to getting the Clique to the Oscars!
Entertainment Weekly reports that "Heathens" has made it past the first round of Oscar voting and is one of 91 (!) songs still eligible to win the Academy Award for Best Original Song.
Giphy
Other notable names still in the game include Alicia Keys, Sia, Justin Timberlake and Shakira as well as several songs from Best Picture frontrunner La La Land.
Full nominations will be announced on Tuesday January 24th 2017. We'll bring you all the news as we get it.
#TheCliqueIsGoingToTheOscarsParty
Original Post - 15/11/2016
Twenty One Pilots may well be adding a very prestigious statue to their book shelves - a beautiful shining golden Oscar...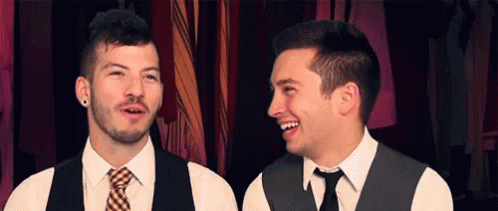 Giphy
Fresh from picking up their statue at the French NRJ Music Awards this past weekend (November 12th), the boys should be looking forward to next month when the nominations for the annual Golden Globes will be unveiled, officially kicking off the 2017 awards season. And where the Globes go, the Oscars will follow...
And there is one question on every skeleton clique member's lips - will "Heathens" get a nod for Best Original Song?
Giphy
Yes, following the HUGE success of their Suicide Squad-soundtrack song, it is very possible that Tyler and Josh could find themselves following in the footsteps of Adele, Sam Smith and even Three Six Mafia to take home an Academy Award.
They are certainly eligible - here's the official Academy rules on song nomination (well, the Wikipedia version anyway)...
There must be a clearly audible, intelligible, substantive rendition (not necessarily visually presented) of both lyrics and melody, used in the body of the motion picture or as the first music cue in the end credits.

The Academy Of Motion Picture Arts
And do TØP meet that criteria?
You're damn right they do!
Best bit of the film tbh.
Obviously, there is no guarantee to any of this but the track is one of the most successful soundtrack songs of the year! Plus, given that the acting/writing/directing/everything else from that particular movie is hardly awards-worthy (sit down Leto, no more awards until you stop sending people weird sh*t in the mail!), Warner Bros will want to push for the accolades wherever they can.
But who will TØP be competing against for this prestigious title?
Giphy
Justin Timberlake should get a mention for "Can't Stop The Feeling" taken from Trolls, Sia has a couple of cinema based tunes out and then there is Moana, the upcoming Disney epic with original music by Lin Manuel Miranda.
Oh and, before you ask, Fall Out Boy's "Ghostbusters" doesn't count because it's not a completely original song. "Girls Talk Boys" could make the cut however but, as the song wasn't written by 5SOS, they most likely wouldn't get anywhere near the statue even if they won.
Tumblr
Since a rule change in 2011, the Academy tends to nominate around 5 songs each year for the Best Song Oscar so all we have to do is convince the (mostly old) Academy voters that "Heathens" deserves their vote. And that's where you come in skeleton clique - time to get to work!
Yes, the campaign starts here everybody! We want posters, t-shirts, flyers - we know you are all sick of election cycles but dammit this isn't just gonna come around again in four years! We'll be keeping an eye on the race all awards season as we aim to get the clique an Oscar. Time to get those meme-making fingers ready - we made this happen for Leo, now it's Tyler's turn!
Just think how happy you'll be when you see the boys on the red carpet awkwardly chatting to Ryan Seacrest while refusing to remove their balaclavas. It's the stuff dreams are made of.
#OscarForTØP
#TheCliqueIsGoingToTheOscarsParty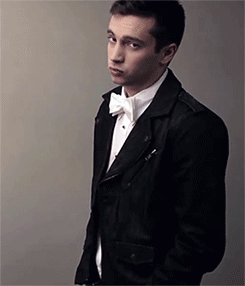 Giphy
___ ___ ___ ___ ___
Subscribe to the #PopBuzzPodcast for free on iTunes to get new episodes sent straight to your phone every Wednesday.