WATCH: Twenty One Pilots Just Dropped The 'Heavydirtysoul' Music Video
3 February 2017, 22:12 | Updated: 8 May 2017, 17:09
It's HEREEEEEE!
UPDATE: Twenty One Pilots have just released the video for Heavydirtysoul. Watch it below:
_____ _____ _____ _____ _____ _____ _____ _____ _____ _____ _____ _____ _____ _____
Twenty One Pilots are once again teasing us all with hints that the long-awaited music video for 'Heavydirtysoul' is about to arrive...
The Blurryface Twitter account, which Tyler has sporadically used to drop info on the band's activities, last night (February 2nd) posted a message that consisted of the phrase 'One More', which many fans believing that means we have to wait one more day for the clip's arrival.
ONEM ORE.

— BLURRYFACE (@blurryface) February 3, 2017
Of course, given how cryptic the past messages have been, it could also just mean that this is the final video of the album campaign. Time will tell.
The account also posted the below photo, believed to be taken from the shoot:
February 3, 2017
What the frick is that supposed to mean? DAMN THESE MIND GAMES!!!
Fortunately, one eagle eyed PopBuzz reader shed some light on the situation.
Interesting...
The band had previously hinted at the theme of the video via a cryptic Instagram post showing a car going up in flames, accompanied by some lyrics from the track.
Then, some behind the scenes clips leaked online, showing Tyler dancing around Josh as he played at a flaming drumkit.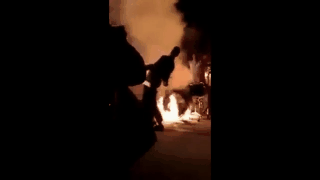 Twenty One Pilots, FBR
But who knows what else might appear in the full clip...
Are you ready for the 'Heavydirtysoul' video? Let us know below.
___ ___ ___ ___ ___
From Brendon Urie to The Vamps, here are the best bits from the #PopBuzzPodcast in 2016. Listen right here or subscribe for free on iTunes to get new episodes sent straight to your phone every Wednesday.