WATCH: Twenty One Pilots 'HeavyDirtySoul' Video Footage Leaks Online
17 January 2017, 10:54 | Updated: 8 May 2017, 17:09
New footage has emerged of Tyler and Josh mid-shoot on the set of the secret music video.
Some sneaky behind the scenes footage of Twenty One Pilots' latest music video has leaked online and it is LIT! No, seriously, everything is on fire...
The upcoming clip for Blurryface album opener 'HeavyDirtySoul' was first announced via a cryptic Instagram post on the band's account, accompanied by song lyrics.
Twenty One Pilots, FBR
Soon, fans were uncovering all sorts of stories and photos about the secret shoot and now we can get our first look at what to expect.
The first clip shows a flaming drum kit in the middle of a road while the song's intro plays in the background while the second clip has Josh playing the drumset with Tyler dancing around the fire as his piano burns in the background.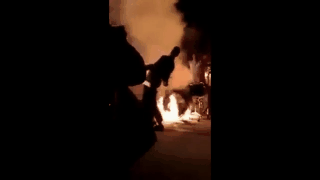 Twenty One Pilots, FBR
BUT WHAT DOES IT ALL MEAN?!?!?!
Hopefully all will be revealed shortly with the video expected to drop sometime within the next week or so as the boys prepare to continue their Emotional Roadshow tour.
Check out the Behind The Scenes clips in the video below:
___ ___ ___ ___ ___
From Brendon Urie to The Vamps, here are the best bits from the #PopBuzzPodcast in 2016. Listen right here or subscribe for free on iTunes to get new episodes sent straight to your phone every Wednesday.