Wait...Did Twenty One Pilots Just Announce A New Music Video?
16 January 2017, 10:27 | Updated: 8 May 2017, 17:09
Tyler and Josh are teasing us all again with a cryptic image posted on social media...
Twenty One Pilots are teasing us all once again, posting a cryptic image on Instagram that has sent the clique into full meltdown!
The image, shared in the early hours of this morning (January 16th), shows a black and white photo of a car on fire with the caption 'mistermistyeyed', leading many people to believe that a music video for Blurryface opener 'HeavyDirtySoul' is imminent.
Interesting. Getting a serious Radiohead 'Karma Police' vibe right there. With a touch of Jason Bourne/Daniel Craig-era Bond thrown in for good measure.
And, while there is a small chance that Tyler and Josh may have just gone for a test drive and things got so out of hand they had to document it, a new music video seems most likely as 'Heathens' director Andrew Donoho also posted a similar image that has since been mysteriously removed...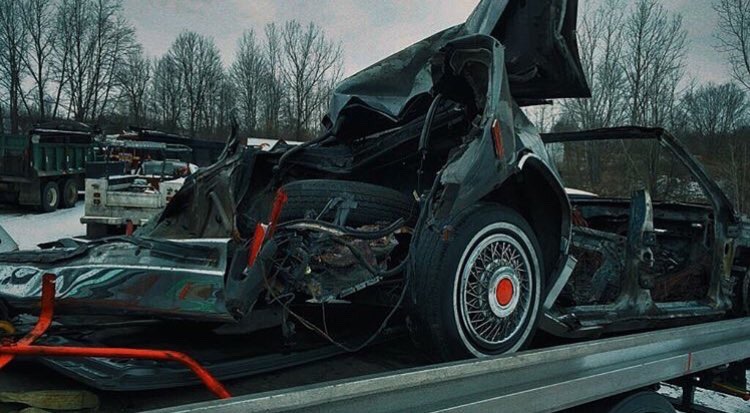 Instagram: Andrew Donoho
Red and black because even their messed up car has aesthetic goals.
Plus, a fan posted this text convo, seemingly giving away a few more details to look out for:
Twitter: cursivetyler
Safe to say, the fans have lost all chill at the prospect of a new TØP video:
*wakes up*

Twenty one pilots: HEAVY DIRTY SOUL MUSIC VIDEO!!!!

me: pic.twitter.com/Shma87FQdf

— Ur #1 Armenian Lebo (@vxrtoug) January 16, 2017
(heavy dirty soul became so important and special to me if they drop the music video I won't be able to go to school)

— [sherlock spoiler] (@abandonedvessel) January 16, 2017
I'll be so happy if we get a music video for heavy dirty soul, that song is so under appreciated

— chloe (@esoterictyler) January 15, 2017
EVERYONE IS FREAKING OUT OVER A POSSIBLE MUSIC VIDEO FOR HEAVY DIRTY SOUL AND ITS APPARENTLY GONNA BE RELEASED ON MY BIRTHDAY AHHHHHHHHHHHHH

—(@mgcxGhost) January 16, 2017
If Tyler doesn't include the death drop in the heavy dirty soul video I'll be v sad

— hanna (@__xxvii) January 16, 2017
But one question remains - will this be a clip for the original cut or the new Mute Math take? Only time will tell...
Are you ready for a new video from Twenty One Pilots? Let us know your ideas below.
___ ___ ___ ___ ___
From Brendon Urie to The Vamps, here are the best bits from the #PopBuzzPodcast in 2016. Listen right here or subscribe for free on iTunes to get new episodes sent straight to your phone every Wednesday.