Twenty One Pilots FINALLY Reveal How Tall They Really Are
1 February 2017, 12:17 | Updated: 8 May 2017, 17:09
After endless speculation, we at long last know the real heights of Josh and Tyler.
We know the question that has been plaguing your soul, waking you up late at night in a cold sweat: HOW TALL IS JOSH DUN?!
After months, no, years of speculation, Tyler Joseph has finally revealed the true height of his Twenty One Pilots' bandmate Josh Dun. And it may just surprise you...
Fueled By Ramen
The band's real heights have long been a subject of contention among the skeleton clique as both Tyler and Josh refused to confirm their exact measurements, constantly changing their story as fans debated and gathered photo evidence to analyse from a distance.
But now, Tyler has finally decided to set the record straight, tweeting this morning the official, not-up-for-debate, totally real height of Mr Josh Dun.
josh is 5'4"

— tyler jøseph (@tylerrjoseph) February 1, 2017
So there you go... What's that? You don't believe him? Well, the boys also made sure they provided this piece of concrete evidence:
February 1, 2017
@907bis @tylerrjoseph pic.twitter.com/8QBYmZpYKX

— josh dun (@joshuadun) February 1, 2017
And, as for Tyler, one fan managed to analyse the photo and come up with this completely accurate analysis.
@tylerrjoseph and you're 8"4!

— emmalee (@sometimeshaIsey) February 1, 2017
So there - no more arguing, it has been settled at last. Finally the fans will rest easy, safe in the knowledge that the information they have long craved has, at last, been provided.
@tylerrjoseph alternative facts

— L (@SLOWTOWNNN) February 1, 2017
@tylerrjoseph what do i do with this information

— lauren 25 (@domftmongeau) February 1, 2017
@tylerrjoseph OH MY GOD NO TYLER COME ON

— emmy HI TYLER \⁄⁄17 (@907bis) February 1, 2017
@tylerrjoseph GO TO SLEEP

— (j)ane boy 10 DAYS (@anthmaIive) February 1, 2017
@joshuadun @907bis @tylerrjoseph KIFNVKCKFKCK

— (j)ane boy 10 DAYS (@anthmaIive) February 1, 2017
Yep, that's definitely the last we will ever hear of that. Or not.
I'm gonna put this to rest. Josh Dun is a good friend of mine and he BARELY reaches 5' 5", if that. For reference, I'm 6' 2". pic.twitter.com/G8vGmLkNAP

— Mark Hoppus (@markhoppus) April 18, 2017
@markhoppus How many " of the 6'2" is your hair?

— josh dun (@joshuadun) April 19, 2017
Whenever I need a social media engagement boost. pic.twitter.com/fR4bnpRNwK

— Reel Bear Media (@ReelBearMedia) April 20, 2017
Even Josh's Mum and friend Jesse Cale are getting in on the action.
For everyone who has been dying to know.....Momma Dun is 4'2"! @JesseCale pic.twitter.com/3R0XHD8qCj

— Momma Dun (@DunLaura) February 18, 2017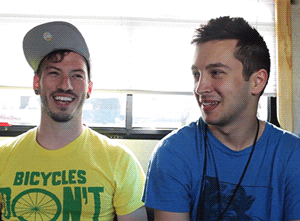 Giphy
____ ____ ____ ____ ____
Listen to the #PopBuzzPodcast with Secret Midnight Press' Ashley Dun & Jesse Cale and Carmen Carrera right here or subscribe for free on iTunes to get new episodes sent straight to your phone every Friday.