WATCH: Twenty One Pilots Stop Show To Play "Mario Kart" With A Fan On Stage
18 January 2017, 12:03 | Updated: 8 May 2017, 17:09
Somebody stole his Kart radio...
Twenty One Pilots have added a whole new element to their 2017 tour dates - playing Mario Kart on stage with fans!
The band restarted their Emotional Roadshow jaunt in Providence last night (January 17th) and while the setlist and staging were largely the same as last year's dates, one dramatic change came when Tyler paused the gig to pull a fan up on stage for a race on Mario Kart 64 (officially the greatest of all the Mario Kart games).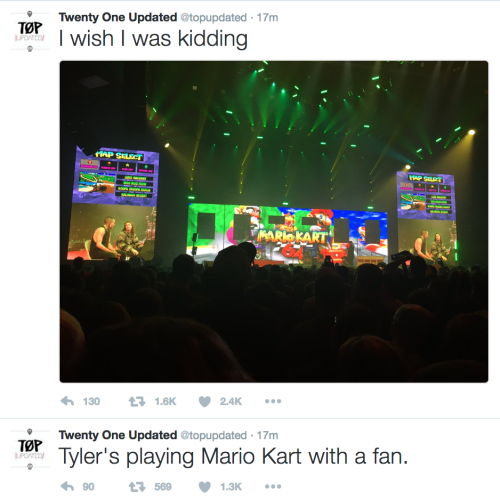 Twitter: Twenty One Updated
But just because they were a fan doesn't mean Tyler went easy on them, taking 1st place in the breakneck race. Because anyone can race a real car, but Mario Kart is where the real heroes shine!
Oh, and obviously the fans all kept it totally chill...
#ERS2017 #ERS #twentyonepilots
the clique: play older songs
Tyler: *plays Mario Kart instead*
the clique: pic.twitter.com/NkTy76f8Ap

— lilly(@lillianfmj) January 18, 2017
#ERS2017 #providenceroadshow pic.twitter.com/cmszBKedig

— lucy(@skullclique) January 18, 2017
Us tbh.
Check out Tyler taking on a fan in the race below:
only at a twenty one pilots concert would there be a mario kart competition. #ProvidenceRoadshow #ERS2017 @twentyonepilots pic.twitter.com/3JEXO589Rn

— gemma!! (@gemmamarshall96) January 18, 2017
Tyler wins! pic.twitter.com/OPBiT4iAPc

— Twenty One Updated (@topupdated) January 18, 2017