This Twenty One Pilots/Meghan Trainor Mash Up Is Surprisingly Great
24 May 2016, 10:45 | Updated: 8 May 2017, 17:09
We really hate that we love this. But we do.
No. Surely not. It can't be true.
Do we...like a Meghan Trainor song?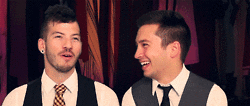 GIFSGALLERY.COM
Well, this is a game changer!
YouTuber AnDy Wu has put together two elements that should NEVER work together and created something incredible.
Brace yourself kids - it's "Stressed Out" Vs "No".
What a jam: