7 Sure-Fire Ways To Get TØP's "Stressed Out" To Number One This Weekend
22 February 2016, 14:09 | Updated: 8 May 2017, 17:09
We can do this skeleton clique!
At the time of writing, everyone's favourite blurry-faced double act Twenty One Pilots are sitting pretty in the Number 2 (LOL) spot on the Billboard Hot 100 chart with "Stressed Out", acting as the filling in a Bieber-bread based sandwich.
Billboard
Come on Biebs, shift over! You've been Number One for ages! Give someone else a turn!
Anyway, "Stressed Out" managed to climb up two places in one week so pushing it that little bit further before the new chart arrives on Friday shouldn't be that difficult right?
So, we thought we'd put together some sure-fire ways to ensure that TØP are on top very soon. Assemble skeleton clique - it's time to get to work.
1) Put your Spotify on repeat for the next 4 days.
Spotify
100 streams equals one purchase so we need to rack up those numbers. Plug in your laptop, put the track on repeat and leave it there, all day, every day. We don't care how sick of it you get or if your laptop becomes overheated and dies - this is for the greater good and it will have lost its battery life for a noble cause.
2) Break into your neighbour's house and put their Spotify on repeat for the next 4 days.
Fox
They'll thank you for it later. Just make sure you don't touch anything else or invade their privacy. Oh, and watch out for sassy young boys with a penchant for pranks. It'll be hard to celebrate chart success when you've injured yourself by slipping on toy cars and Christmas decorations.
3) Hold a bake sale to raise funds for additional downloads.
Lina West, Facebook
Everyone loves baking. Everyone loves Twenty One Pilots. Job Dun!
4) Sabotage the competition.
Comedy Central
Anyone know any good hackers who can f*ck up Bieber's Itunes page? Just asking for a friend. Not even sorry.
5) Start a twitter campaign/Facebook petition/Gofundme page.
gofundme
Those always work right? Remember how that petition you signed for that thing cured the world of all horrible things forever? It can be like that again!
6) Steal a stranger's phone, download "Stressed Out", put the phone back.
Apple
Perfect when they are distracted at the gym. But do put it back. Oh, and maybe download the PopBuzz app for them while you're at it.
7) Hand out Josh Dun Hun cards to people in the street.
PopBuzz
How can anyone resist the call of the Dun? These are the perfect bribe!
Good luck everybody, let's get this campaign moving!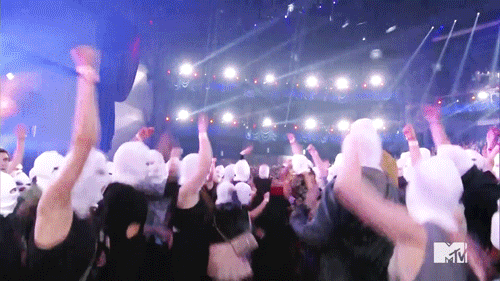 MTV.tumblr.com