WATCH: Twenty One Pilots Perform "Stressed Out" In A Whole New Way
27 April 2016, 10:18 | Updated: 8 May 2017, 17:09
Tyler and Josh stop by an Australian radio show for a brand new take on their biggest single.
Twenty One Pilots just put a whole new spin on their huge single "Stressed Out", Tyler giving a ukulele-based rendition on Hamish and Andy's radio show.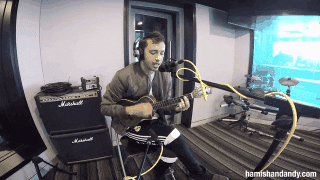 Hamish and Andy
After Josh joked that he "forgot his drums", Tyler ran through their current hit in a completely new way that we hope will be replicated in some live shows soon. Someone call MTV unplugged - this needs to happen!
Josh and Tyler are still in the middle of a tour of Australia before heading out across the US over the summer.
Watch the full performance below: