Watch Tyler Joseph Perform 'Stressed Out'...In A Karaoke Bar!
10 May 2017, 09:35 | Updated: 10 May 2017, 09:54
The Twenty One Pilots frontman absolutely crushed one of his biggest hits in front of an unsuspecting public.
Tyler Joseph gave his most intimate and stripped back performance in years last night (May 10th), stopping by a local karaoke bar to run through his band's well-known hit 'Stressed Out' for the crowd.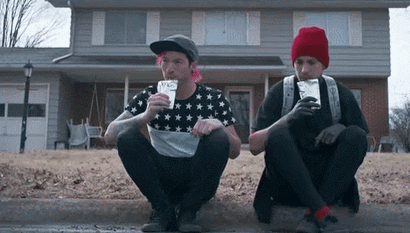 Fueled By Ramen
The Twenty One Pilots frontman in a brief break from the group's Emotional Roadshow tour and is clearly enjoying the time off, entertaining the patrons in the bar with an energetic routine - and he didn't even have to look at the screen once! It's almost like he wrote the words or something!
But don't worry if you weren't one of the lucky few customers who happened to be hanging about - Tyler's wife Jenna captured the whole event via an Instagram live stream. God bless her.
Check out Tyler doing a karaoke take on 'Stressed Out' in the videos below:
via markartrip on Instagram pic.twitter.com/PX4QLpZwub

— Hourly Jenna (@hourlyjenna_) May 10, 2017
of course tyler does his own song for karaoke pic.twitter.com/dc59goEYCB

— dee (@heavydirtyhoe) May 10, 2017
____ ____ ____ ____ ____
Listen to the #PopBuzzPodcast with Niall Horan right here or subscribe for free on iTunes to get new episodes sent straight to your phone every Friday.