TØP Just Smashed Another Chart Record, Because Of Course They Did
24 February 2017, 11:52 | Updated: 8 May 2017, 17:09
"Heathens" has made NO sudden moves.
Twenty One Pilots might not have claimed the BRIT Award for best International Group this week; but that hasn't stopped them from constantly staying on tøp (sorry).
According to Billboard, "Heathens" has sat at number 1 in the Hot Rock Singles chart - for 28 consecutive weeks.
via giphy.com
The duo's single from the Suicide Squad soundtrack is arguably the best thing to come out of that movie; and it seems like a lot of people agree. As of the March 4th chart, which has just been published, the single has officially broken the record for staying at number 1 for this long.
It has just pulled ahead of the original record holder, Walk The Moon's "Shut Up And Dance"; which spent 27 weeks at the top between April and October 2015.
The clique keeps on growing.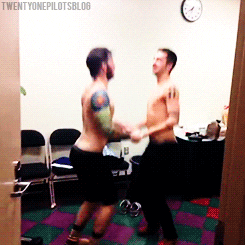 [Giphy]
Listen to "Heathens" again below because why tf not.