Olly Alexander's Acting Years (& Years): 6 Of His Best Moments
9 June 2016, 11:27 | Updated: 8 May 2017, 17:09
TV, film and theatre - the Years and Years frontman has had a varied career as an actor...
Before he became the synth-loving frontman of everyone's favourite kings Years and Years, Olly Alexander had a rather prominent acting career, appearing across a variety of TV and film projects.
So, let's take a little look back at some of the finest acting moments of the Years and Years frontman. It's Olly Alexander - the thespian years.
1) The Riot Club
This adaptation of the hit West End play "Posh" focuses on the secret drinking societies of Oxford University and some pretty thinly veiled young versions of the UK government officials. Olly played the character of Toby Maitland, one of the older students, the rest of the cast including Max Irons, Sam Claflin and Douglas Booth.
2) God Help The Girl
This musical concept album turned film was the work of Belle and Sebastien frontman Stuart Murdoch, Olly playing James, an aspiring songwriter in Glasgow attempting to form a band with his friends.
3) Skins
The landmark teen TV series returned in 2013 for several stand-alone episodes featuring favourite characters from the preceding series. "Pure", aired in two parts, revolved around the character of Cassie, played by Game Of Thrones' Hannah Murray, Olly playing her stalker Jakob, the two forming an odd friendship.
4) The Dish And The Spoon
In his first movie lead, Olly stars as the "boy" who Greta Gerwig's character befriends in this rather sweet American indie romcom.
5) Gulliver's Travels
Remember when Jack Black did that big budget movie version of "Gulliver's Travels"? Well, Olly was in that too. As Prince August. Apparently.
6) Peter And Alice
Olly played the role of Peter Pan in this star-studded 2013 West End play, working alongside the likes of Ben Wishaw, legendary director Michael Grandage and, the queen of all acting, Dame Judi Dench. Not bad company then.
No wonder he's so good in music videos...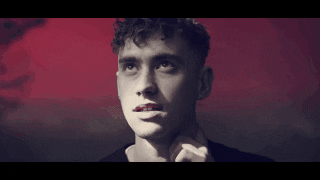 Years and Years