Watch Years & Years Pasodoble The F- Out Of This Performance Of "King"
16 November 2015, 11:58 | Updated: 8 May 2017, 17:09
Communion on the dance floor.
If "King" comes on in the club, we usually start slutdropping on every person and surface possible. Partly because the song is an absolute banger, but also because we can't be trusted to behave ourselves in public spaces.
Years & Years latest performance throws the song into a different dancing context altogether. The band were playing on the BBC's Strictly Come Dancing (which is kinda like Dancing With The Stars for you non-Brits) and it's a completely WTF and amazing.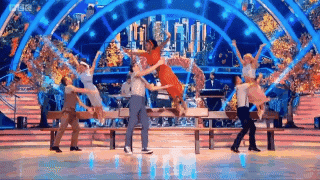 We're not entirely certain what the narrative of the dance is about but we're guessing it isn't the same thing which inspired the euphemistic lyrics to "King". Not that anyone cares, mind you. We just wanna see women in sparkly costumes being thrown in the air.
Watch the performance of "King" below, and maybe tweet Olly to bully him into dancing next time.