Yungblud says Halsey helped him realise that he's attracted to men
2 December 2020, 16:34 | Updated: 5 December 2022, 17:25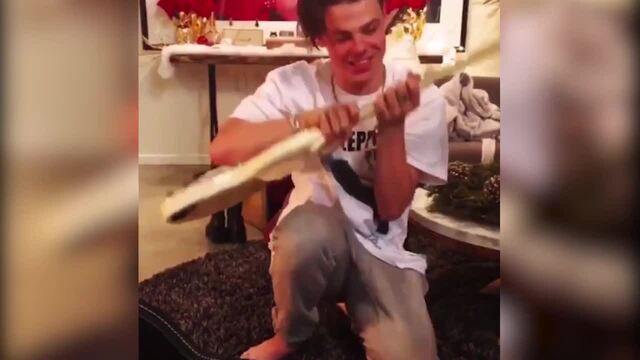 Halsey gifts YUNGBLUD with a guitar for Christmas
Yungblud opened up about his sexuality, being polyamorous and his experiences with men in a new Attitude interview.
Yungblud has revealed that dating Halsey helped him understand his sexuality and realise that he's attracted to all genders.
Yesterday (Dec 1), Yungblud won Attitude's 2020 Gamechanger Award. When asked by Attitude, if he considers himself part of the LGBTQ community, Yungblud said: "I know it's such a massive statement to me, but, probably yeah, I think I would. I haven't said that yet because I don't want some mad article everywhere going: Yungblud comes out as fucking pansexual!"
READ MORE: Halsey reveals why she's stopped dating musicians after Yungblud
He also spoke at length about his own journey with his sexuality, being polyamorous and how important Halsey is to him.
Speaking about Halsey, Yungblud revealed: "She taught me so much, even about my sexuality. The conversations we would have at night, she has such knowledge because she's been openly bisexual for years… it's so funny when you're dating someone, yet [you] owe them a lot towards your sexuality; even though she is not a man, she made me go, 'Oh my God, I probably like am into that."
He continued: "I met someone, and she changed my whole perception of what love could be. It didn't work out in the end because we're better as friends and I think that's what it was – we're, kind of, very the same, so that was weird for us."
Discussing the term pansexual, Yungblud said: "I wasn't into that idea – like, my sexuality is mine and I'm proud of it. But, as I say, I probably would say that, yeah, because I fucking don't know, I love everyone, I'm attracted to everyone. I'm still quite weird about going, 'This is what I am,' to the world because I've never really said it."
He added: "I probably would say now, I am polyamorous. Before I didn't fucking know what I was. I was meeting people and learning… by meeting them and talking about sexuality and gender, I [was] going, 'Oh my f***ing God, maybe I'm this, if I'm going to be f***ing close to anything on the spectrum.'"
As for his experiences with men, Yungblud explained: "I've never dated someone publicly who's a guy, but I've definitely fucking like hooked up with people and been into it and loved it. What's crazy is, I didn't preconceive that, but when that happened, I was like, 'Oh!' and it's confusing because you're like, 'Holy shit, you're beautiful and I fucking had a great time and it's magic."
Yungblud ended the interview saying: "You've got to lose yourself in a load of people to figure who you are sexually… fuck me, bruv, two years [ago], I fucking hated olives, now I love olives!"
UPDATE: In a recent interview with Louis Theroux in Nov 2022, Yungblud revealed a little more about his sexuality.
Speaking about celebrity crushes, Yungblud said his two crushes were Shawn Mendes and Harry Styles.
He told Louis: "I am attracted to people. Shawn's a gorgeous- looking guy. A stunner. Harry Styles, gorgeous, beautiful. Again, I would kiss him but I don't know if he would kiss me.
"I think the beautiful thing about sexual expression is that it can change. It is not about the gender, it is about the person. That is what you are. For me that is what I am.
"When I came to London I experimented with every kind of thing."