Zayn's accent baffles US fans over his pronunciation of "daughter"
13 July 2023, 14:49 | Updated: 13 July 2023, 14:59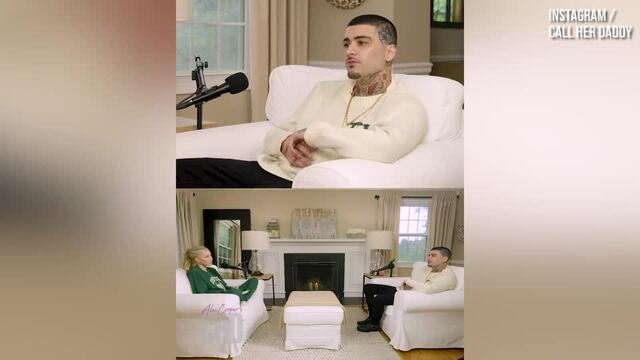 Zayn to speak on Call Her Daddy for the first interview in 6 years
"The way he says "daughter"?? British people are so not real."
Zayn's Call Her Daddy interview has left thousands of people confused thanks to his British accent.
Anyone who spent just one millisecond of the past 13 years on the One Direction Wikipedia page will known that Zayn is from Bradford in West Yorkshire, northern England. He's always spoken with his distinct British accent. In fact, it's kind of iconic that he hasn't lost it while living in the US over the past few years.
But after six years away from any kind of sit down interview, people seem to have forgotten what he sounds like.
Now, following the release of his new interview, people are obsessed – and, in some cases, baffled – with the way Zayn says the word "daughter".
A short preview clip of Zayn was released ahead of the episode, and people couldn't help but fixate on the way he pronounces "daughter" in his Bradford accent.
One tweet quickly went viral, with someone writing: "The way he says "daughter"?? british people are so not real".
That then sparked a whole snowball of international fans losing it over a) the fact that Zayn is actually British and not American, and b) his regional accent.
"SINCE WHEN THE HELL IS ZAYN MALIK BRITISH" one user wrote. Another said: "People being surprised Zayn is British is insane where have y'all been?"
But anyway, enough about his accent. During the interview, Zayn shared some absolutely adorable comments about his daughter Khai (who he shares with Gigi Hadid) for the very first time, sharing that she inspired him to overcome his anxiety regarding interviews, so she's able to look up to him in the future.
"Since I've had my daughter, the main thing in my mind is trying to be a good example to her," Zayn said. "That's why I'm even doing this interview, you know?"
"I used to get a lot of anxiety around having a conversation like this and I want her to be able to look at me and be like, 'My dad's doing this.'"
He later added: "She's brought that colour back to my life for me."
Bless! Welcome back Zayn!
Read more Zayn news here:
The Witcher Cast Interview Each Other | PopBuzz Meets