Zayn New Album: Title, Release Date, Tracklist And Everything We Know So Far
21 February 2018, 15:43
From the name and release date to the complete track listing, here's everything you need to know about Zayn's second album.
It's almost upon us. Zayn is preparing to release his second solo album and he hasn't been shy in teasing the details about it. We're coming up to two years since Zayn released his debut album, Mind Of Mine, on March 25th 2016. Could he be getting ready to drop Z2.0 on the same day two years later, the day that is known to millions of One Direction fans as the day Zayn left the band? Only time will tell...
In the meantime, here's everything you need to know about Zayn's new album:
via giphy.com
When will Zayn's second album be released?
In September 2017, Zayn revealed that his second album was almost ready to be released. He told Fader Magazine that the record is "kind of finalised. But there's always ideas. Every day I find another song that I'm swapping out with another one. That's why the album date hasn't really come yet. Even though the album is pretty much there, and I have the material, I'm still changing things here and there."
He later confirmed that the album would be out within the "next couple months". "I don't know. That's the beauty of the word 'soon' — it's open to interpretation. The pressure is on from the management, but I'm taking my time with it."
While it was originally slated for a late-­September release, Zayn 2.0 now won't be out until the first quarter of 2018... a least.
February 20, 2018
What is the title of Zayn's second album?
Zayn has teased that the album DOES have a name but he's still keeping it under wraps for now. "It does have a name, and I'm really excited about it. It's kind of going to be something weird with it — I don't want to say more. It's not your usual way of putting out an album, let's say that," he told Fader.
Visual album, anyone?
What are the song titles on Zayn's second album?
So far, there are no confirmed track titles from Z 2.0 but that hasn't stopped fans from sleuthing around trying to find more information. In December, fans noticed that a new song had been registered under Zayn's name called 'Hurt' but that was later quashed by his people who said it was not registered by his team.
Keep your eyes peeled on Zayn's Instagram in the meantime however, because he'll probably just drop the entire tracklist unexpectedly like he did with Mind Of Mine.
Who is he working with on the album? Will there be any collabs?
Zayn has been back in the studio with his main collaborator from Mind Of Mine, Malay, who is well known for his work on Frank Ocean's Channel Orange and Blonde. There have also been reports that Timbaland and Rob Cavallo (Paramore, My Chemical Romance, Lil Peep) have contributed to the album. He's also apparently been working with an "unknown" Brazilian artist that his team declined to name but Zayn has mostly made the majority of the songs himself.
As for collabs? We're sure there'll be one or two guest vocalists on the album. Mind of Mine only had one guest vocal (Kehlani) but with Zayn's conscious effort to make his music a little more mainstream, we could see some artists of like his recent collaborators Sia, PARTYNEXTDOOR or Taylor Swift make the cut.
What will Zayn's second album sound like?
Zayn knows his first album was moody and dark, ok? You don't need to go on about it... This time around, he's working on making it more rhythmical and up-tempo while mixing in the aesthetic he maintained on MoM.
"The last album veered into a much more nighttime kind of thing," says Peter Edge, chairman/CEO of Malik's label, RCA. "This one is more of a mix than that."
Zayn also revealed to Fader that he's tried to add more mainstream songs to the album "because obviously my fans want to listen to something that's a bit more upbeat and feel-good and not necessarily always as thought-provoking or deep as my shit, haha." He also revealed that the new album will contain more songs that have a similar vibe to the PARTYNEXTDOOR bop he put out in 2017.
If Zayn's recent Instagram poetry is anything to go by, his album could have a little bit of a political edge to it too.
And here we have Zayn dragging Trump in his poems, in a way Trump wouldn't even understand. pic.twitter.com/qggkaiUwZs

— raffa | Z2.0 (@zinfonies) February 7, 2018
Will Zayn go on tour?
As we all know, Zayn has struggled pretty drastically with anxiety over the past few years. He's pulled out of numerous solo performances as a result and never really got to tour with the music from his first album.
This time around, he's really committed to taking his catalogue on tour. "The first record, I didn't feel like there was enough material to do a proper show. So I just waved it off until the second album, so I can get the best of both," he explained to Fader. "I think my confidence is definitely improved now, so a tour is definitely on the cards. I'm excited to start rehearsing."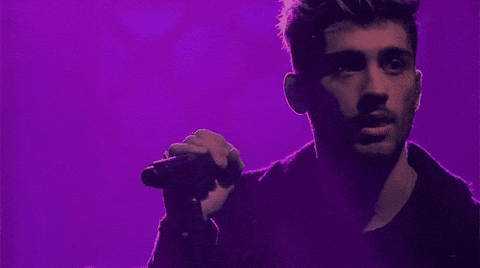 via giphy.com