10 Black British artists you need to add to your playlists right now
9 October 2020, 10:30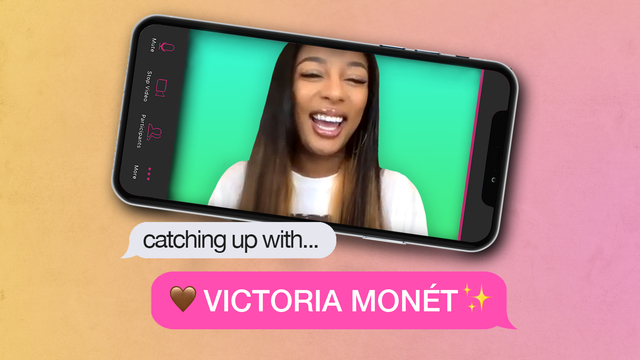 Victoria Monét talks Jaguar and collab dreams with Drake and Beyoncé | PopBuzz Meets
Stars like Bree Runway, Che Lingo and Arlo Parks are changing the game in music.
It's Black History Month in the UK and to celebrate we are highlighting some of the most exciting artists in music right now.
Black History Month takes place every October in the UK. The month is used to recognise and honour Black British history and culture. It's also used to educate people about the ways in which Black people still face oppression and to encourage those of us who aren't Black to reflect about the ways in which we're complicit in racism and make concrete change.
With that in mind, we wanted to shine a light on just a few Black British and UK based artists you should be listening to.
READ MORE: 17 Netflix TV shows and movies you have to watch during Black History Month
1. Bree Runway
If you don't know Bree Runway's name yet, you will do. Bree has been releasing music since 2016 and this year she's taken her career to the next level with four of the standout singles of 2020 so far. 'APESHIT' is a Missy Elliot level anthem, 'Damn Daniel' is a hilarious kiss-off, 'Gucci' is an unmatched flex and 'Little Nokia' is, quite simply, a perfect pop song.
From her charisma to her choreography, Bree is the popstar we've been missing.
Bree Runway - Little Nokia (Official Video)
2. Azekel
Azekel, who was born in Nigeria but lives in the UK, is so talented that Prince was a fan. The London-based singer has the sort of voice that can convey a thousand emotions and his latest work showcases that to full effect. 'Thrills' is equal parts sultry and melancholy and 'Learn to Love' is the rare kind of love song that is so beautiful it stops you in your tracks.
Give Azekel's 2020 EP Azekel Unreleased a spin to experience the true magic of his work.
Azekel - Thrills featuring Oyinda (Audio)
3. Kamille
You may not recognise Kamille's name but you've definitely heard her work. Over the past decade, Kamille's written Number 1 singles for stars like Little Mix, Clean Bandit and Jess Glynne. Kamille has plenty of bops of her own though. 'Somebody' is the type of slow jam that never gets old and her recent Lotto Boyz collab 'Miss Jagger' is a stone-cold banger.
Stream 'Love + Attention' and the rest of Kamille's discography for clear skin.
KAMILLE - Love + Attention (Lyric Video)
4. MNEK
Like Kamille, MNEK has also been a vital force in music behind-the-scenes, working with everyone from Beyoncé to Selena Gomez. This summer he landed his first UK Number 1 as an artist with his recent Joel Corry collab 'Head & Heart', but his solo work deserves just as much love. Language, his 2018 album, is excellent from start to finish and it's queer as fuck.
'Tongue'! 'Honeymoon Phaze'! 'Girlfriend'! MNEK is incapable of releasing a bad song.
5. Arlo Parks
Arlo Parks has the kind of voice that is so striking that it feels like you've always known it as soon as you first listen to it. Her art is catharsis in song form. Arlo sings about mental health and depression in a way that is frank, real and honest. It's hard to think of many lyrics as powerful and true as: "It's so cruel what your mind can do for no reason".
Her debut album is due out later this year. If 'Black Dog' and Hurt' are anything to go by, it's going to be remarkable.
Arlo Parks - Hurt (Official Video)
6. Che Lingo
Che Lingo is quickly making a name for himself as one of the most distinctive voices in British rap today. From his incredible penmanship to his unique melodic style, he has a true gift for capturing life in music. In 'Dark Days', Che gets real about his childhood and Black love and in 'My Block' he opens up about the insidious nature of British racism and police brutality.
Che's debut album, Welcome to My Generation, is due out October 23 and features the likes of Ghetts and Kojey Radical.
Che Lingo - Dark Days (ft. Kojey Radical)
7. Ms Banks
Ms Banks is a star. Whether she's working with Tinashe, Stylo G or Little Mix, she elevates every single song she features on and her solo music slaps. Her 2019 single 'Snack' has the kind of hook that will get stuck in your head for weeks and make you want to listen to it on repeat. Meanwhile, songs like 'NOVIKOV' prove that she is in a league of her own as an MC.
With three killer mixtapes under her belt already, the world is Ms Banks' oyster.
Ms Banks - NOVIKOV [Official Music Video]
8. Jordan Stephens
As one of two members of Rizzle Kicks, Jordan Stephens is Britsh music royalty, but his work as a soloist is brilliant too and it shows how much he's grown as an artist since Rizzle Kicks debuted. 'Son of a Gun' is a confessional anthem which puts his lyrical skills on full display and 'Sunshine Skin' is a moving ballad about the beauty of Black skin and self-love.
From his singles to his P.I.G. EP, Jordan never fails to impress with his solo music.
9. Chi Virgo
Chi Virgo may only be four singles into her career but her music suggests otherwise. From her stunning vocal arrangements to her dreamy visuals, she gives off the confidence of an artist who's been working for years. Her 2020 offerings showcase just how much personality she has. They feel effortless and give off and IDGAF attitude without ever being boring.
Watch Chi's D.I.Y. 'Bye Bye' lockdown video to see her talent on full display.
10. Dionne Bromfield
Dionne Bromfield is no stranger to the music industry. She's been recording songs since she was 13 and is also well-known for being Amy Winehouse's goddaughter. Just like Amy, Dionne has an unmistakable tone that captures the soul of another era. 2020 saw Dionne officially shake off her child star image with 'Bad Intentions'. It's slinky, it's catchy and it goes off.
With songs as good as this, it feels like Dionne's only just scratching the surface of her full potential.
Dionne Bromfield - Bad Intentions (Lyrics)