2015: The Year Of The Female Sex Jam
22 December 2015, 13:52 | Updated: 28 November 2018, 11:32
Admit it. You love a good sex jam.
2015 has been a year jam packed full of pop culture goodies. There have been feuds as far as the eye can see, very important social media hot takes, and new releases from the world's biggest names in music. But, one key thing that we couldn't help but notice was the female led sex jam movement. This was the year that women in music either covertly or very obviously were singing about sex or self-love and no one could stop them if they tried.
Take Selena Gomez, for example. She has come a long way from being the girl who wore a promise ring on the red carpet. Now, all grown up and really owning her sexuality, Selena's entire album, Revival, is a catalog of sexy, yet relatable jams. In that whisper singing voice Selena has pioneered, we get to hear about a young lady wanting to look good for her man and of course dissect the meaning of the overtly sensual "Hands To Myself".
Even visually, Selena is embracing the look of a sex goddess. Gone are the "Selena and The Scene" days, now replaced with Selena's new vibe--rolling around in her skivvies.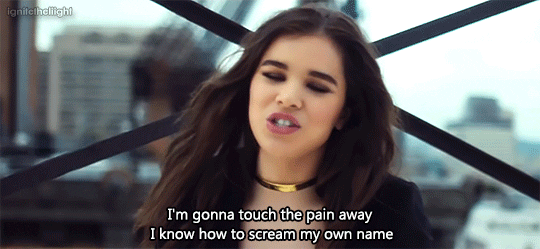 Then of course there was Hailee Steinfeld's surprisingly great debut, "Love Myself". If ever there was a self-love anthem worth its salt, the actress turned singer found it in "Love Myself". The entire song works in two ways. As a thinly veiled tribute to masturbation and, of course, as a female empowerment jam.
Becky G wasn't afraid to say how she really felt in the innuendo packed "Break A Sweat" , Carly Rae Jepsen wanted to sin in the dark on "Run Away With Me", and Demi's saphic sex jam, "Cool For The Summer", made us rethink the phrase "don't tell your mother".
This year was the year when women in music were unabashed about the fact that they wanted to get it on at home, on the run, in the dark, and with themselves.
Even Bey and Nicki got in on the female sex bop madness. Despite its December 2014 The Pinkprint release, Nicki Minaj's "Feeling Myself" didn't get visuals until May of this year. Nicki reps her favourite team, "the perverts", while she and Queen Bey dance to some pretty risque lyrics covering sex, self-love and everything in between.
I remember when Christina Aguilera's "Dirrty" music video came out in 2002. At the time it was certainly a controversial release, both lyrically and visually. Perhaps "Dirrty" was ahead of its time. Perhaps if "Dirrty" had been released in 2015 no one would have bat an eyelash. It would have certainly fit in with this year's motif of sexual liberation.
Whether you loved all these releases or not, it's sort of impossible not to vibe with all these confident and talented women. It might just be the emboldened tide of the music industry, but there is something to be said about how we are finally embracing confident women who aren't afraid to be sexual beings.