13 Things That Happened In 2016 That Made You Emo Again
22 December 2016, 11:57 | Updated: 8 May 2017, 17:09
Make America Emo Again
Emo, pop-punk and punk-rock... it all made a comeback in 2016 and they all came together to unite us in times of turmoil and take us back to the good old days of the 00s where deep lyrics, heavy eyeliner, striped socks and beat up converse were the only things that mattered.
The revival of our teenage emo aesthetic peaked this year. How many of these things made you emo again?

First of all, My Chemical Romance literally came back from the dead to give us MCRX.
July 20, 2016
*g note intensifies*
But that was after they'd already ripped our hearts to shreds and shattered our hopes and dreams of a 10 year anniversary reunion tour.
Thank you so much for the love. pic.twitter.com/3wv6G7CXIk

— My Chemical Romance (@MCRofficial) July 21, 2016
We had the eyeliner sharpened and ready to go, ffs!
Hayley Williams dropped the sickest hair dye line of all time.
via giphy.com
And all those ex-emos who dabbled with the scene aesthetic and used to tease a bit of Paramore back in the day SNAPPED IT UP. Why didn't this exist ten years ago at the height of it all?
Boys. Painted. Their. Damn. Nails.
via tumblr.com
DAN HOWELL WITH NAIL VARNISH.
Suicide Squad dropped and everyone ran out to buy hair dye and studded belts.
via giphy.com
Don't tell me Harley Quinn hasn't been shopping in the Gotham City Hot Topic before.
Oh and like, while we're talking about Suicide Squad... 'Heathens' leaked.
via giphy.com
Listen, emo or not - 'Heathens' made you feel something, didn't it?
Literally this cap.
via Respect Your Youngers
MAKE *claps* AMERICA *claps* EMO *claps* AGAIN
The revival of the black lip and the GENIUS hack that came along with it.
PopBuzz
If only you knew that using eyeliner instead of a lippy with terrible coverage (or worse... a sharpie) at the height of your Emo phase. Think of all the money you could have saved!
The Knifeliner trend.

What's sharper than perfectly applied winged eyeliner? KNIFELINER. #EmoUpgrade
The only presidential ticket worth voting for emerged.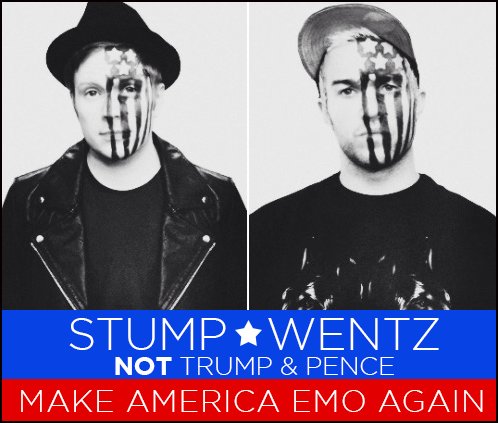 via @n33n / Twitter
Stump and Wentz. Not Trump and Pence.
Gerard Way joined Snapchat.
Gerard Way making a snapchat = best thing to happen in the last week pic.twitter.com/6yOMituoNs

— emily o'tannenbaum (@emilyxp15) May 24, 2016
Emo revival at FULL CAPACITY. *sirens*
And then Mikey Way joined Snapchat.
I have been inspired by @gerardway to jump into the snapchat! username : mwheezie

— Mikey Way (@mikeyway) May 24, 2016
TOO EMO TO FUNCTION.
Twenty One Pilots covered MCR's 'Cancer'.
*cries in emo*
#ItsNotAPhase
___ ___ ___ ___ ___
YOU voted and results are in! Who won the Album of the Year at the PopBuzz Fan Awards? Listen to the #PopBuzzPodcast right here or subscribe for free on iTunes to get new episodes sent straight to your phone every Wednesday.