How "Amy" Became The Most Powerful Music Documentary Ever
15 February 2016, 15:23 | Updated: 8 May 2017, 17:09
The best music doc in years.
At last Sunday's BAFTA awards in London, Amy, Asif Kapadia's powerful documentary detailing the life and career of Amy Winehouse, took home the best documentary award, building serious momentum as the Oscars approach where it is nominated for the same prize.
Undoubtedly deserving, Amy has set a new standard by which all future music docs will be judged. Here are just a few ways in which it has changed the game.
1) Honesty.
Kapadia makes no compromises in terms of the issues tackled in the film, addressing all aspects of Amy's often distressing and tragic existence with little time for sugar coating. Similarly, the other figures in her life do not escape scrutiny, her father and husband in particular presented as conflicting presences, bringing shades of love while inadvertently causing hurt.
2) Use Of Available Footage.
Despite the brutal honesty, that is not to say the film is in any way sensationalist. Comprised entirely of existing home video, interviews, news reports and performances with added voiceover interviews from those close to the singer, the audience is left to make up their own minds about what happened. Also, given the huge level of scrutiny placed upon her by the tabloid press, there is copious amounts of video shot away from the stage, often on her own doorstep, which, when placed together, creates a distressing effect and a damning portrait of the UK press.
3) The Music.
While addressing her undoubtedly troubled life, front and centre is her musical ability. From candid footage shot at her Grammy's performance (given via satellite link from London) to her early days in the recording studio and jazz clubs, Amy's gift for singing and writing carries the narrative through, her unrealised potential making an already tragic end seem all the more wasteful.
The film ends abruptly just as the singer passes away aged 27, no word given to the musical legacy she would inspire and the many acts she opened the door for. Now, following the documentary's success, Amy's work is being revisited and her impact reviewed, reason alone for it to take any prize it is eligible for over the coming months.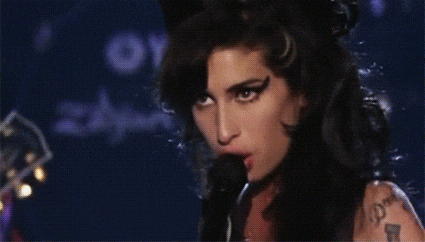 RATGOD.TUMBLR.COM