Avril Lavigne: 8 Best Songs That Should've Been Singles
23 September 2015, 17:56 | Updated: 8 May 2017, 17:09
Why d'ya have to go and make things so complicated we hear you ask. Because we did.
Avril Lavigne is not only empress of all things kawaii and Hello Kitty, but the girl is also the pied piper of sk8er bois and will, quite literally, never grow up.
Now that we've shoehorned five Avril references in before the second paragraph, let's get to the topic at hand...all the amazing songs that were cruelly overlooked for the single treatment. And, across five albums, Avril has recorded LOADS.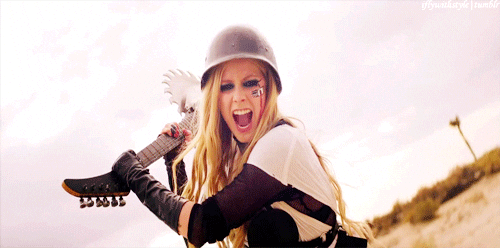 So, in honour of Ms Lavigne we've picked 8 of the best songs that weren't singles...
1) "Things I'll Never Say"

Taken from Avril's debut album Let Go, "Things I'll Never Say" has all the hallmarks of an Avril classic. From the opening acoustic guitars, cries of "Hakadada" (sp?) and that chorus, the song is pretty special. Discussing the woes of trying to tell the person you love that you, well, love them, the song is a cute and sweet meditation on young romance. However, if you look closer you could also say it explores the feelings of unrequited love. Basically, this song is deep A.F. and we definitely feel like it was worthy of the single treatment.
2) "Anything But Ordinary"

Another gem taken from Let Go, "Anything But Ordinary" is a song for a generation that melds teen angst ("Somebody rip my heart out, And leave me here to bleed, Is it enough to die?") with anti-conformity. The production, delivered by The Matrix, also has a timelessness to it, with processed drums and guitar effects elevating the track. Likewise, Avril's vocals on the chorus are stellar and the last hook of "I'd rather be anything but ordinary please" is pretty memorable. It might not have been the best song for radio at the time, but there's something about this song that lingers. It's truly a fan favourite.
3) "Falling Down"

"Falling Down" was actually included on the Sweet Home Alabama soundtrack, but we're 100% convinced this could have been a single. It's got enough oomph in it and some of Avril's signature moodiness that it could have followed up "I'm With You" easily. Why this song was relegated to film soundtrack we're not sure at all. What a travesty.
4) "How Does It Feel"

Avril's angrier and darker second album had a post-grunge vibe to it that was totally fitting for the teen star to shake off the 'teeny bop' tag that she'd begrudgingly been attributed. However, one song that doesn't stray too far from the melodic elements of her previous record is "How Does It Feel', a soaring ballad comprised of distorted guitars and muted strings. It also showcased a more vulnerable side to Avril's voice, which we totally love. This could easily have been an end-of-album single if so desired.
5) "Freak Out"

As Avril was angling for a slightly harder second album, "Freak Out" would have been a perfect single from Under My Skin. It's got the loud guitars, male harmonies and drums that we know and love from all our pop punk faves, and there's attitude, too. We think that a wider audience would have appreciated it and that this was a wasted opportunity. What a moment.
6) "Contagious"

Avril's third album The Best Damn Thing was a tiny bit problematic, mainly because the album lacked the killer hooks to draw us in. However, at under three minutes "Contagious" was one of the songs that seemed radio ready and an easy smash. However, it wasn't to be and the song was criminally overlooked. The guitar riff that opens the song is joyous and the chorus has some seriously catchy moments. WHAT A SHAME AVRIL. WHAT A SHAME.
7) "Push"

When Goodbye Lullaby came out, the general public had sort of fallen out of love with Avril, but it's probably the most cohesive album the singer has released since Let Go. One song, the infectious 90s-teen movie-esque "Push" is hidden gem, full of Dawson's Creek like percussion and One Tree Hill ready guitars. It might not have been a certified smash, but "Push" is so quintessentially Avril that we just love it.
8) "Give You What You Like"

Ok, don't @ us, but this song is the best thing that Avril might have ever done. It's got the adult themes of sleeping with someone just because you hope that one day they might love you, the lingering melancholy of unrequited love and elements of loneliness that are distinctly adult and completely different from anything the singer has approached before. It might have been used in the Lifetime movie Babysitter's Black Book, but in our eyes this was the best Avril single that never was. What a melancholic bop.